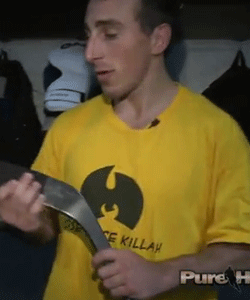 Brad Marchand has already picked up a handful of nicknames in his short time as an NHL player. And thankfully, they go beyond just "Marchy," a derivative of I think every hockey player's nickname. Just throw a "y" at the end of a name and, voila! -- you have a nickname.
That's not to say "Marchy" (pronounced Marshie) isn't one of his nicknames -- we found out it is -- but he has his choice of his favorite. And he has one.
The nickname Nose Face Killah -- an homage not only to Marchand's schnoz but the rapper from Wu-Tang Clan fame -- is a personal favorite. It's a name that fans bestowed upon him at the end of last season and it's one he likes.
"Yeah, it's fun," Marchand told Jesse Connolly of the Hockey Journal. "It seems to be something that's gotten pretty big, and a lot of people have taken to it. It's cool."
It became such a big deal that they made a t-shirt with the moniker on it. Marchand even has one himself (see the photo above).
But not all of the nicknames are hits. One of them just hits the wrong chord with Nose Face Killah. What is the offensive moniker? "Marshmont."
"Oh, I hate that name so much," he said, shaking his head. "I don't get where it came from. When people call me it, I tell them to stop. But the 'Nose Face' one, that's fine."
I think Marchand just ensured himself to hear Marshmont from fans all across the league for the rest of his career, particularly in rival Montreal. Any time a player says what he doesn't like to be called, you can bet he'll hear it for the rest of his time. Much the same as longtime Atlanta Braves star Chipper Jones said he hates to go by his birth name of Larry, you could be sure to hear a mocking "Larrrry" chant at all the road games from the few fans who just wanted to get under his skin (I may or may not know this from personal experience).
So I think it's safe to say more than the people in Boston are paying attention to Marchand's nickname choice.
Photo: Fark.com
For more hockey news, rumors and analysis, follow @EyeOnHockey and @BrianStubitsNHL on Twitter.