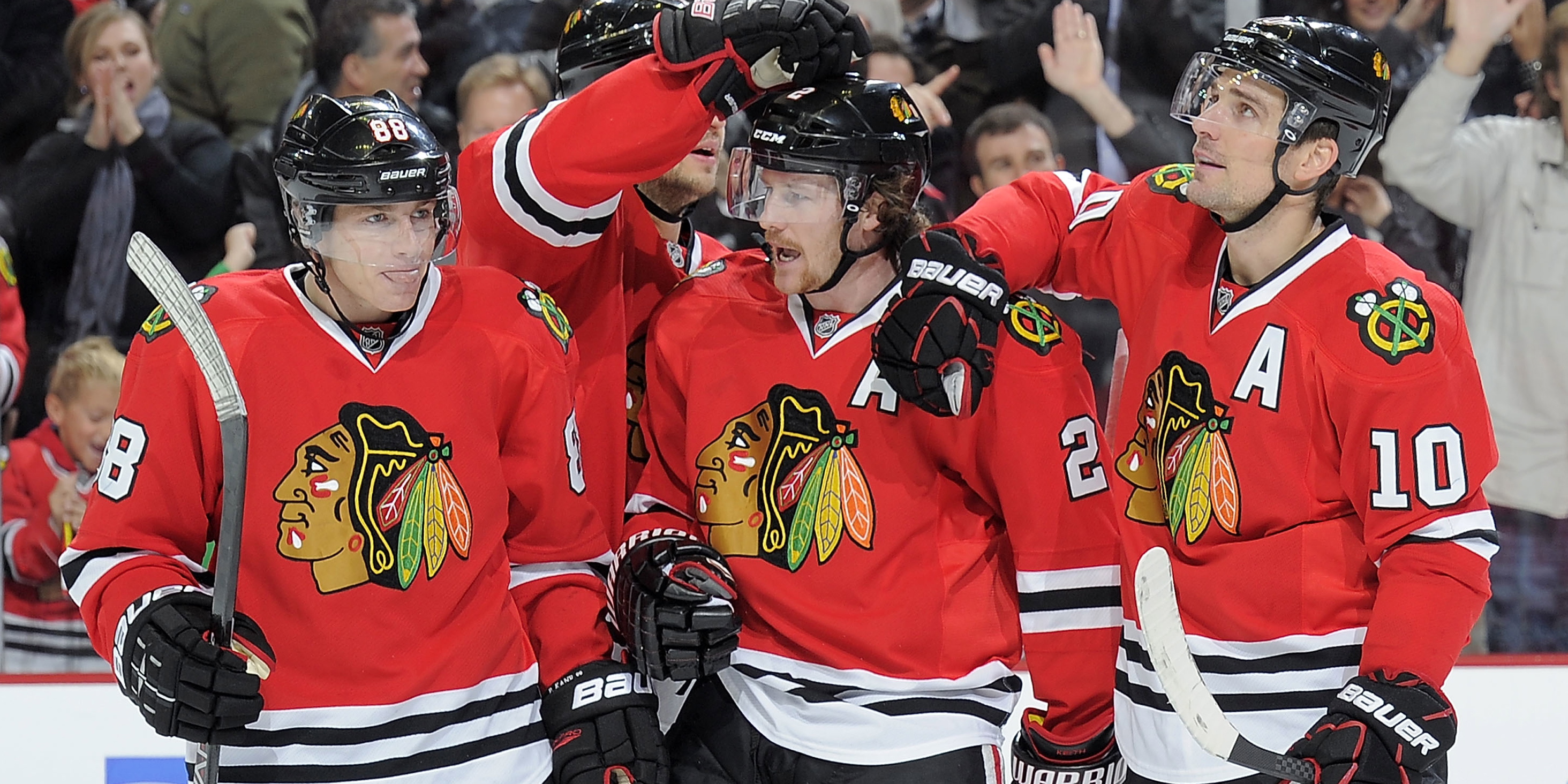 Pucks and Numbers: a weekly statistical look at what's happening around the NHL. This week: A look at the struggling Chicago Blackhawks power play that may not be as bad as its early season numbers indicate.
By: Adam Gretz
The Chicago Blackhawks power play has been struggling to score goals through the first month-and-a-half of the season, which is kind of surprising given the talent they have on the on their roster. Not to mention the fact they were one of the best teams in the NHL on the man advantage last season, finishing with the fourth best power play percentage in the league.
Entering last week's game against Columbus, the Blackhawks owned the worst power play percentage in the NHL, converting on just eight percent of their chances on the man advantage. Certainly not something you would expect for a team that boasts players like
Patrick Kane
,
Marian Hossa
,
Patrick Sharp
and
Jonathan Toews
.
During that game against the
Blue Jackets
, which Chicago won 6-3, the Blackhawks used an interesting alignment on their second power play unit (
which we wrote about here
) sending three defensemen out on to the ice --
Duncan Keith
,
Nick Leddy
and
Steve Montador
, with Montador positioning himself in front of the net as if he were Chicago's version of
Tomas Holmstrom
.
Not only did the seemingly makeshift line generate some offense, it scored twice for what was Chicago's first game of the season with multiple power play goals. Two games later in another 6-3 win, this time against the Edmonton
Oilers
, the same group of players scored another goal on the man advantage, with Montador again standing in the slot and re-directing a Leddy one-timer into the cage. In three games this week Montador scored two power play goals and assisted on another, after scoring just two power play goals over the first 11 years of his career. Crazy stuff.
Over that three game stretch (all Chicago wins) the Blackhawks power play has converted on four of its 11 attempts to help them climb from 30th in the NHL up to 24th. In the 15 games prior the unit was just 5-for-57.
Was the power play
really
that bad -- or underachieving -- over the first 15 games of the season? And was the presence of Montador in front of the net all they needed to get the ship going in the right direction?
Not exactly. Though, you have to give Montador credit for filling in and doing his job extremely well. (It's worth noting that Toews told Adam Jahns of the
Chicago Sun-Times
on Monday
that Montador's experience on the PK may be serving him well in his new role
. "He does a great job of boxing guys out on the penalty kill in front of our net, so he's a workhouse ... He's good at getting himself open when he's on offense.")
Small sample sizes early in the season can create some misleading percentages, and it's been found that one of the best indicators of future power play success is the number of shots on goal a team generates (
you can read about it in part here
). So far this season the Blackhawks have been one of the best teams in the NHL when it comes
to getting shots on goal during 5-on-4 play
, and prior to their recent three-game power play explosion, they had a shooting percentage of around 5 percent on the power play.
In three different games over the first month Chicago had at least 10 power play shots on a given night and failed to score. How long could that really continue? Kane and Hossa, for example, each have
17 shots on goal at 5-on-4 with no goals
(Hossa's one power play goal this year came during a 5-on-3). That, too, will not continue.
We saw something similar take place with the Detroit
Red Wings
a couple of weeks ago
during their panic-inducing six-game losing streak
when their offense all but disappeared. They were still dominating their opponents in the shots department, but were going through a run where, as a team, they had an incredibly low (and unsustainable) shooting percentage. Eventually that was going to turn around (and it did. They've since won four games in a row, scoring 18 goals).
I'm not sure how long Montador is going to keep finding the back of the net on the power play, but I am confident that as long as heavy hitters in the scoring department (Kane, Toews, Sharp, Hossa) keep generating chances and shots, the goals will start to return.
For more hockey news, rumors and analysis, follow @EyeOnHockey and @agretz on Twitter.