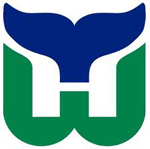 Could the Hartford Whalers return to the NHL? The question has been asked every day since they left for Carolina in 1997.
But where there's a will, there's a way. And there is definitely a will from Howard Baldwin, the CEO of the Connecticut Whale, and now he's trying to find a way.
This week Baldwin revealed a plan to renovate the XL Center and completely upgrade it as well as the surrounding mall. The building is old and out of date, so before an NHL team could ever return, the arena issue would have to be taken care of. That's the idea for Baldwin.
The tough part, as with any arena idea, is the public funding. Baldwin's plan calls for $105 million of it to execute the plan. Especially in today's economic climate, that's one tall task.
Even more important according to Hartford Courant writer Jeff Jacobs is that the number of $105 million be accurate. If it's wrong, it could spell trouble. Read Jacobs' entire story for full details on the arena plans as well as a video with artist renderings and more from Baldwin.
So before you crank up the Brass Bonanza again, temper the enthusiasm. First of all, even in Baldwin's ideal world, the Whalers don't return until 2017. Assuming that the NHL liked the arena enough and was willing to commit to the Hartford market again, there would still be an issue of a team.
There seems to be a waiting list right now to be the next hockey market. Quebec City is the hottest host candidate, especially with a new arena in the works. Kansas City is begging for a primary tenant in its new arena. Seattle, Las Vegas and Houston are lurking in the background as well.
As far as teams in danger of relocating, it appears only the Coyotes fit that mold right now. The Islanders would be in the conversation, but I am all but convinced the commissioner won't let the Isles leave the New York area. Although Hartford wouldn't be a far relocation, it would be about a three-hour drive from their home now, not exactly close enough to keep the fan base.
But in the meantime, keep the hope alive, Hartford. I think it would please a lot more than the people of Connecticut to see the Whalers back in the NHL. Just in case the Whalers do come back, make sure the old logo returns.
For more hockey news, rumors and analysis, follow @EyeOnHockey and @BrianStubitsNHL on Twitter.