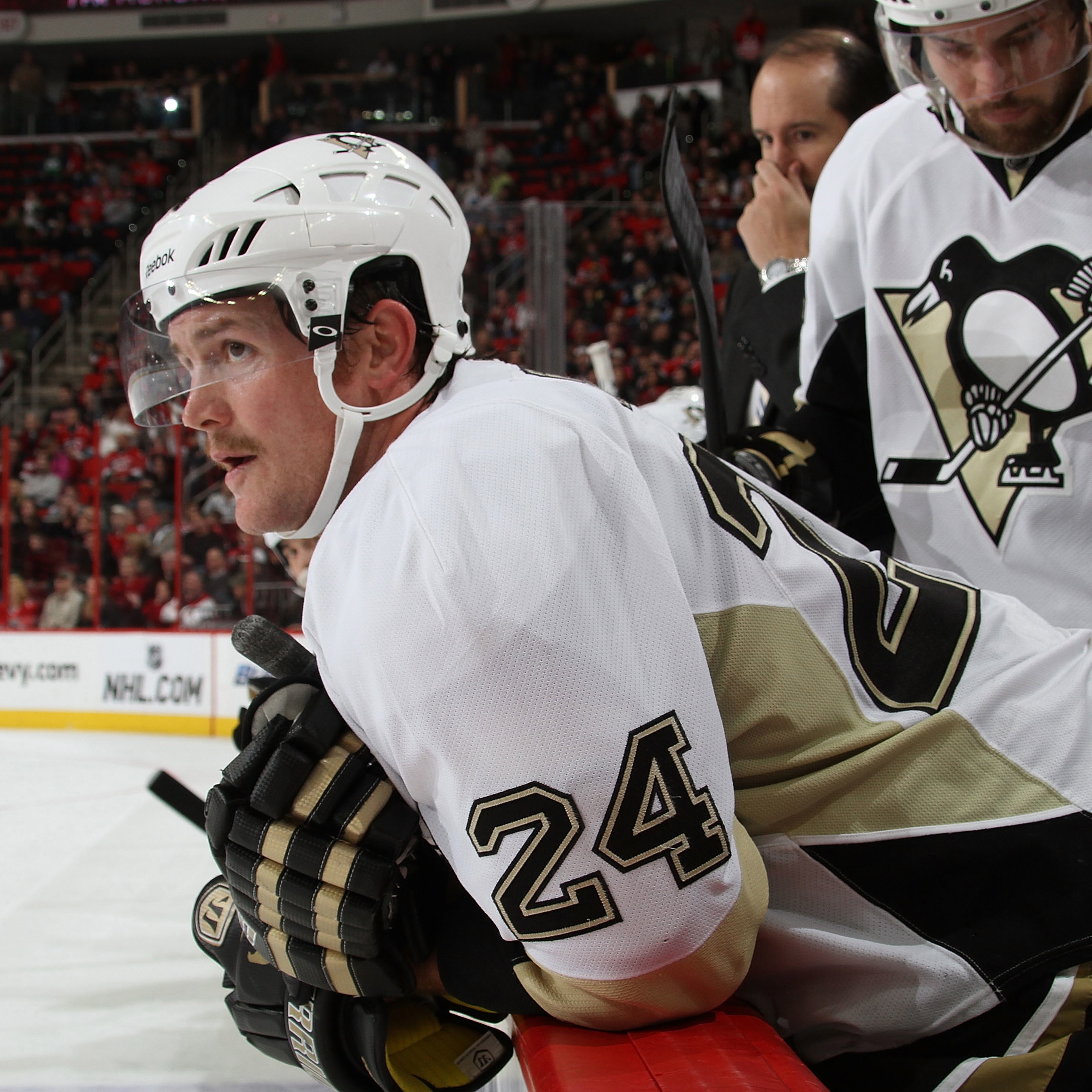 By: Adam Gretz
Throughout his career Pittsburgh
Penguins
forward
Matt Cooke
has usually been used as an example of what
not
to do on the ice when it comes to physical play. He's been suspended five times, including the final 10 games of the regular season, and all seven of Pittsburgh's playoff games last year, and
is perhaps known most for the hit
on Boston's
Marc Savard
that started his still on-going battle with concussions, and also helped spark the NHL's rule changes regarding hits to the head (rule 48).
Following his most recent suspension, one that hurt the Penguins in their opening round playoff loss to the Tampa Bay
Lightning
, Cooke
vowed to change his ways and clean up the way he plays hockey
. His claim was greeted -- and rightfully so -- with a sense of,
show us, don't tell us
, and
actions speak louder than words
.
A month-and-a-half into the season and he is now actually being used as a
positive
example of what to do on the ice. At least in the eyes of the Penguins.
In an article penned by the Canadian Press on Wednesday, Penguins general manager Ray Shero cited Cooke's early season play as an example the NHL can use for what Brendan Shanahan is trying to accomplish with player safety.
From Shero, via the CP
:
"For Brendan Shanahan and player safety, here's a guy that they can show on some highlights and the videos, where he's not taking the hit or he is pulling up (in dangerous situations)," said Shero. "He's still got a ways to go. But in the first portion of the season here and exhibition as well, he has changed the way he's played and he's still a really good effective player for us in his role.

"That's good news for us and it's good news for Brendan Shanahan in terms of what he's trying to do."
Through 18 games this season Cooke has not done anything remotely dirty, and has been sent to the penalty box just two times -- once for interference and once for unsportsmanlike conduct for diving -- for a grand total of four penalty minutes. Over the past four seasons through the same number of games he registered 23, 22, 25 and 24 penalty minutes. Along with that, he also has a positive differential in the number of penalties he's drawn compared to the number of penalties he's taken for the first time in four years.
(Penalty numbers via BehindTheNet)
Matt Cooke Penalties Drawn vs. Penalties Taken: Past Four Years
Year
Penalties Taken per 60 Min.
Penalties Drawn per 60 Min.
Difference
2011-12 (18 Games)
0.3
1.4
+1.1
2010-11
1.8
1.2
-0.6
2009-10
1.4
1.1
-0.3
2008-09
1.6
1.3
-0.3
2007-08
1.4
1.2
-0.2
This is definitely a positive development and a good start for the Penguins, as well as Cooke, because he's always been a valuable player when he isn't sidelined with a suspension or sitting in the penalty box following an ill-timed penalty (he can score, and he's one of the top penalty killers on the best penalty killing team in the league).
But it's going to take a lot more than 18 games for fans -- if not opposing players as well -- around the NHL to believe that he really has turned the page and become a different player.
Photo: Getty Images
For more hockey news, rumors and analysis, follow @EyeOnHockey and @agretz on Twitter.