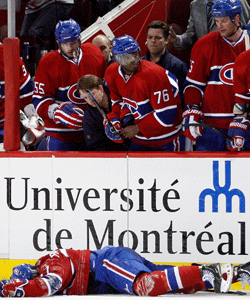 The investigation into Zdeno Chara's hit on the Canadiens' Max Pacioretty last season in Montreal has come to a close, and no charges will be filed against the Boston Bruins captain. And sanity prevailed.
In a statement released Thursday, Quebec's director of criminal prosecutions says it does not believe a court would find Chara guilty of a crime and it has closed the case.

Montreal police met with various witnesses and concluded their investigation in August after meeting with Chara himself.
Everybody involved in the matter, including Pacioretty himself, wanted this to be done with a long time ago. It stems back to a nasty hit Chara laid on Pacioretty by the stanchion at the end of the bench that resulted in the breaking of Pacioretty's vertebra.
Chara was not suspended for the hit by the NHL (although imagine what would have happened to him if Brendan Shanahan had begun his tenure already). In the aftermath of the brutal shot, the NHL made a change at all the arena this summer by changing the stanchions to rounded glass at the ends of the benches to significantly decrease the chances of another dangerous hit.
Pacioretty remained out for the remainder of last season but has been on the ice from the start of this season with the Canadiens. In 18 games Pacioretty has eight goals and seven assists, blossoming into one of Montreal's better players. Some, mostly in Montreal, maintain that if Pacioretty were available to play in that series, the Habs don't lose in seven to the eventual Stanley Cup champions. But to that we'll never know the answer.
I'm just glad that the Montreal police backed off of this. It's still exactly the reasoning I'd like to see -- the belief a jury wouldn't convict Chara instead of it simply not being a law-breaking incident -- but in this case sanity wins out.
Photo: Getty Images
For more hockey news, rumors and analysis, follow @EyeOnHockey and @BrianStubitsNHL on Twitter.