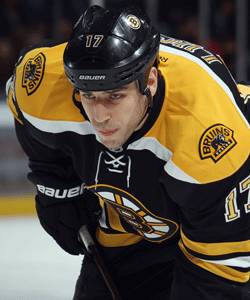 The Sabres and Bruins will clash again on Wednesday in Buffalo, and the referees will be on high alert. Well, that's the edict that was handed down by Brendan Shanahan to the Northeast Division foes.
Also on his toes will be Milan Lucic, the Bruins forward who hit -- or "collided" with, depending on your vantage point -- Sabres goalie Ryan Miller outside of the crease earlier this month, leaving Miller out with a concussion. The Bruins forward, who wasn't attacked during the Bruins' 6-2 win that night, is expecting to be on Wednesday.
Here is what Lucic told Kevin Paul Dupont of the Boston Globe on Tuesday when asked if expects for somebody to take a shot at him:
"Yes ... I'm not going to lie ... yes."
Considering the Sabres did nothing and one of them, Paul Gaustad, was upset at both the team's and his own lack of response, it's not like Lucic is going out on a limb here. There is a lot of pressure from the fans in Buffalo, and likely within the team, to make up for their lack of a response.
Just a note to any would-be agitators, Lucic can fight and has been able to for many years.
Photo: Getty Images
For more hockey news, rumors and analysis, follow @EyeOnHockey and @BrianStubitsNHL on Twitter.