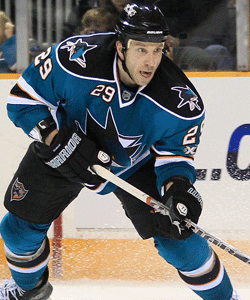 Not long ago, Mark Recchi, a member of the Bruins team that beat the Vancouver Canucks to win the Stanley Cup last season, called the Canucks the most arrogant team he ever played in his 22-season career. Kevin Bieksa took exception to the comments, but a lot of fans agreed.
And so did some of the players.
The San Jose Sharks also ran into the Canucks in the playoffs last season and with each having extended runs at the top of the Western Conference, they have a pretty strong familiarity with each other. So it's no surprise that they would share Recchi's sentiments, maybe only surprising that they would actually admit to it.
Douglas Murray and Ryan Clowe were asked about Recchi's words the day before the Sharks and Canucks meet (on Saturday). Neither was going to disagree with Recchi. From Kevin Kurz of CSN Bay Area:
"Recchi was obviously a very well-respected player in this league for many years, and still is very respected," Murray said. "For him saying something like that probably means something.

"It's not the whole team. It's certain individuals that give them that reputation. I'm not going to call out names. It's obvious for anyone that watches the game."
Well for those who maybe don't watch the Canucks all that closely, you're left to yourself to figure it out, right? Well that's where Clowe comes in.
"They've got certain guys, and they have [Maxim] Lapierre there who is known for that," said Clowe. "He's known to run his mouth and play that sort of game. He doesn't really like backing that up. You have [Ryan] Kesler and [Alex] Burrows who used to do that a little bit more. Apparently the last year, and last couple of years, they've tried to not talk as much and just play."
Yea, can't say those names are a shock. Remember it was just a week ago that the tandem of Lapierre and Burrows was being accused of some dirty shenanigans against the Senators.
The Canucks are an interesting creature to me. They have clearly become one of the most hated teams in the NHL. Canada, which always seems to embrace its own to win the Cup for the country, almost shunned Vancouver in last year's postseason. Their biggest Stars, the Sedin twins, are pretty much everything you could ask for in model players and faces of your franchise.
It's all the more interesting that the Canucks haven't won a Stanley Cup. Usually such hatred is reserved for the teams that win championships, not runner-ups. Did anybody really hate the Buffalo Bills in the early 1990s (other than their traditional rivals)?
All I know is that the Canucks keep piling up a list of must-see games with every opponent comment.
Photo: Getty Images
For more hockey news, rumors and analysis, follow @EyeOnHockey and @BrianStubitsNHL on Twitter.