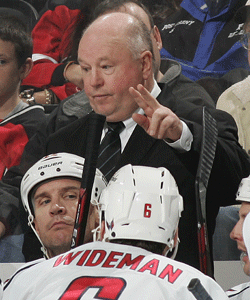 ARLINGTON, Va. -- To most, it would appear that Bruce Boudreau is the classic case of a coach becoming a victim of his own success.
The Washington Capitals fired their coach of four seasons on Monday, breaking the news to him at 6:15 in the morning and naming one of greatest players in franchise history, Dale Hunter, his replacement.
Boudreau was as good of a regular-season coach as the NHL has ever seen. The Caps took off under him when he became the boss during the 2007-08 season, going 37-17-7. The four times he finished the season behind the Caps bench, they won the Southeast Division.
But he could never get over the playoff failures. In his tenure, the Caps were 17-20 in the playoffs. That lost him a lot of favor among the fans who were thirsting for more. To see a team doing so well season after season and failing to make a conference final? Still, the Capitals brass stuck behind Boudreau.
No, what cost Boudreau his job wasn't the losses in the playoffs -- although those didn't help -- but instead it was the loss of the team this season.
"These are always difficult decisions but, as I said, you don't want to make these decisions but when you see what I saw, you have to make the decision," general manager George McPhee said. "You can't look the other way. I've seen it in a few games recently, enough that I knew the team wasn't responding. We've got their attention now and hopefully they respond in the right way.
"He gave it everything. As I said, he emptied the tank, he gave it everything and he pushed every button he could push. It worked for a while, it's not working now."
The losing of the team was never on more display than the now infamous incident when Alex Ovechkin, the team's superstar and captain, was benched for the final shift of the game, one in which the Caps scored to tie the game, no less. On the bench, Ovechkin was seen mumbling something about his portly coach that was less than flattering (lip-readers out there know what was said). If there were any thing that signaled the beginning of the end, that was probably it.
General manager George McPhee declined to signal out one instance, but when talking about losing the team, that is exhibit A.
"I don't think this has anything to do with Alex Ovechkin," McPhee said on Monday at the team's practice facility. "I think this has everything to do with his team not playing well. The goalies aren't stopping pucks, the defense aren't getting the pucks out and the forwards aren't checking and scoring enough. It's our whole team, not an individual. We have a lot of players that aren't playing the way they are capable of playing, and that's why a change was made.
"We've got to be good defensively. We haven't been good defensively. That's really my issue right now. We're just giving up too many goals."
Maybe the players put it best.
"For whatever reason, as a team we weren't really responding well enough or as good as we should have been," defenseman Karl Alzner said. "And it's kind of 'Where do you go from there?' And that's when they come into play, the guys upstairs. And they do what they have to do."
Or there was Brooks Laich's more succinct take.
"You should be giving your best effort all the time ... It sucks that he's the fall guy for it."
More NHL Coaching Changes
If that Ovechkin incident was just the beginning, than it was a recent road trip that was the end. The final nail in the coffin appeared to be an embarrassing 7-1 loss to the Maple Leafs in Toronto.
"A couple of games on the road last week, I didn't like them at all," McPhee said. "I was happy we bounced back early last week with a couple of wins, but then I started to see the same thing again. and that's when you know.
"It's probably been about a week that we've been kicking it around."
The hope, of course is that this will flip the switch and the Capitals will return to being the Capitals of the past few seasons, the team that romped its way to the Presidents' Trophy. There is hope among the Caps and their fans that this in-season change will work as well as it did for the Penguins and Flyers in recent seasons, with both teams representing the Eastern Conference in the Stanley Cup Final.
The most intriguing aspect of this will be to see if Ovechkin, and to a lesser extent Alexander Semin, will play like we have seen them in the past. The local radio shows here are filled with what you'd expect: people thinking Ovechkin is done, wanting Semin gone, etc.
It's a worthwhile question: Can a new coach bring back the old players?
That's the task for Hunter. Many are betting he will. I'm not as convinced. I don't think we'll ever see the 50-goal Ovechkin again. I'm not even sure how much we'll see of a 40-goal Ovechkin. Power forwards don't last forever in the NHL, especially when they don't adapt. If Ovechkin is going to become the dynamic player he once was, he'll have to change. Maybe that is a message Hunter will be able to get through to him, because clearly Boudreau couldn't.
The inevitable happened in this coach vs. star battle: the star won. We all knew that would be the result eventually, you can't fire Ovechkin. In reality, Ovechkin doesn't come away looking any better than Boudreau in this case.
"I think everybody was in shock," the captain said.
Ovechkin continued, saying that sometimes a message can get a little tiresome.
"You can be tired from what the coach is telling you and maybe mistakes and some things like that," Ovechkin said. "But again, the decision is made and we just have to look forward, not look back. Or if you are going to look back at what happened, I think we don't have to talk to you guys about it. It's going to be between our family and our locker room."
That family no longer includes Boudreau, obviously. Not after his early morning talk with McPhee.
"We had a meeting at 6:15 this morning and he was a class act, all the way," McPhee said. "He said all the right things and he made me feel better. Bruce has got such a nice way about him. He made me feel better about the decision. If the worst thing you can say about the guy is that he's a hell of a nice guy, he must be a great guy, and Bruce has been a great guy here."
I can tell you this much. While Boudreau might night be missed a whole lot by the fans, he'll be missed as a personality in the sport. He became an even bigger star when he stole the show on HBO's 24/7 series. But he won't be out of hockey long at all. If he isn't coaching again, he'll find a spot on television for sure.
With his affability, that's a team he would never lose.
Photo: Getty Images
For more hockey news, rumors and analysis, follow @EyeOnHockey and @BrianStubitsNHL on Twitter.