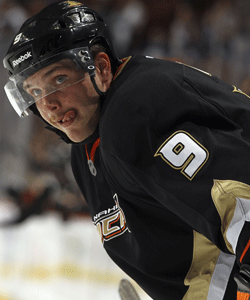 Two nights ago, Nick Kypreos of Sportsnet said he was hearing rumblings out of Washington that Bruce Boudreau would be fired in 24-48 hours. Fast forward 12 hours and the deed was done.
On Monday night, Kypreos said he was hearing rumblings out of Anaheim that the Ducks are shopping young forward Bobby Ryan. Might be time to pack your bags, Bobby.
There is no team struggling worse than the Ducks right now, and that includes the New York Islanders. They have lost seven consecutive games, 13 of 14 and 16 of their last 18 games. The word atrocious comes to mind.
From the news conference of Capitals GM George McPhee on the firing of Boudreau on Monday, there was a line he used to describe that situation which applies equally, if not more so to the Ducks.
"This wasn't a slump," McPhee said. "You can ride out slumps."
At this point, it looks like a lot more than a slump in Anaheim too. That's why something has to be done, something big. Trading Ryan would qualify as something big.
In Ryan, Corey Perry, Ryan Getzlaf and Teemu Selanne, the Ducks have about as powerful of a top four scoring set as you can name in hockey, truly. But what they don't have is a lot of depth. Or a shutdown defenseman. In order to get those holes filled, especially the defenseman part, they need a pretty big bargaining chip.
It makes Ryan even more of a target when his slow start to this season is considered. Through 23 games, the 24-year-old American has seven goals and four assists. That puts him on pace for just about 40 points and we're a quarter of the way through the season. His lowest point-total (excluding his 23-game rookie season) was 57 ... and he did that in just 64 games. In each of his three "full" seasons, Ryan has had at least 31 goals. He's already a proven scorer who would be attractive to every single team in the NHL.
For some evidence, here's a trade proposal from Nashville Predators blog Section 303, suggesting the Preds offer Colin Wilson, Ryan Ellis, Teemu Laakso and a first-round draft pick. I like the offer, it's at least much more realistic than most fan proposals that normally look like "Sean Avery and a conditional pick ... come on, why wouldn't they take that?"
One person that you can almost guarantee is salivating at the idea and has likely already put a call in to Ducks GM Bob Murray, is former Ducks GM and current Maple Leafs boss Brian Burke. He obviously knows Ryan since he drafted him, he has already worked some deals with the Ducks, snagging Joffrey Lupul, and it appears he has a strong affinity for American players.
The moral of the story? Whether the rumor that Ryan is being actively shopped is true or not, it's about time the Ducks do something to shake things up.
Photo: Getty Images
For more hockey news, rumors and analysis, follow @EyeOnHockey and @BrianStubitsNHL on Twitter.