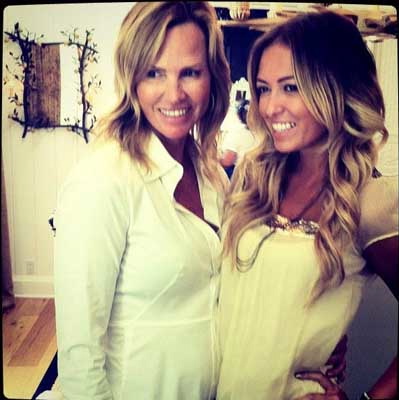 By: Adam Gretz
So it's come to this.
The hottest story (in more ways than one, I suppose) related in some way to the NHL on Tuesday has been the news that Wayne Gretzky's 22-year-old daughter, Paulina, recently deleted her Twitter account that was presumably being used to help push her acting, singing and modeling career, as well as mainly posting some racy photos of her and her friends living the party lifestyle (we've selected one of the safest ones, which you can see to the right. Paulina is the one on the right).
It was all brought to the attention of the masses
by The Chive earlier this month
. Fun times.
Well, for a little while, anyway.
The fun ended last week when she sent her final Tweet which read,
via the Montreal Gaze
tte
, "Having a nice sit down dinner with my dad about social media..haha."
And then it was gone, and there was much mourning around the Internet. So much so that the
Vancouver Sun
has taken the time to put together a huge photo gallery of some of the pictures that helped make up the now-deleted account,
which you can check out
(and, of course, it goes without saying that's probably not safe the for the office).
The speculation,
fueled by the Toronto Star
, is that the Great One urged his daughter to tone it down due to his reported interest in purchasing the Toronto
Maple Leafs
.
(H/T Deadspin, Puck Daddy)Photo: Vancouver Sun
For more hockey news, rumors and analysis, follow @EyeOnHockey and @agretz on Twitter.