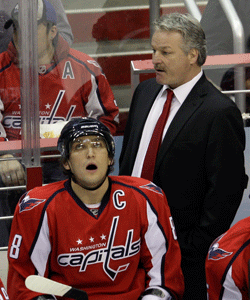 WASHINGTON -- Before the game, Dale Hunter had to feel like a rookie again. He had the incredibly rare opportunity to make a first impression for the second time, this time as a coach to a fan base that endears and reveres still from his playing days.
"I got the butterflies going," Hunter told a big scrum about two hours before his NHL coaching debut. "It's like the first game after being traded."
It probably didn't help when the fans gave him a standing ovation early in the first period when a video montage of Hunter was played with the final message being "Back where you belong."
For the first time in four years, the Washington Capitals played a game without Bruce Boudreau behind their bench. There wasn't a whole heck of a lot that was different in Tuesday's 2-1 loss to the St. Louis Blues from the rest of the season, particularly the past few weeks. Part of the idea behind the firing of Boudreau was to spark the team, get them to start playing the way everybody thinks they are capable of. Or as general manager George McPhee put it a day earlier: "We have their attention now."
One thing that was different, according to Hunter, was the team's effort. He had no qualms there.
"We got better as the game went on," Hunter said, "and they competed real hard. That's the important thing. That's what you need to win."
That wasn't the end of the positives that Hunter is taking away from the game.
"We didn't give up odd-man rushes tonight," Hunter said. "There were no two-on-ones and three-on-twos and they competed. We played smart, but they're a good team [St. Louis] and we got to give them credit, too."
OK, so that was one big difference, the defense was much more solid than it has been. The leaky D was one of the reasons McPhee cited for canning Boudreau in the first place, so improvement there is a must. This was a good start.
"I think we did a good job from [a] defensive side today," goaltender Tomas Vokoun said. "You know obviously one goal is not enough."
I'm not here to make any swift judgments. Remember, 48 hours ago, Hunter was still the coach of the London Knights in the Ontario Hockey League. There's not a lot, if anything, he can be expected to get done on such short notice. All you can hope for so soon is hustle and effort, a department the Caps might not have been giving it their all in recent weeks.
"You can't set a time period to it," Hunter said about how long it will take to get the team playing how he wants. "By watching them live now, we have some stuff to work on."
But ironically enough, the man behind the other bench on Tuesday, Ken Hitchcock, was in the same position as Hunter a few weeks back, taking over a similarly struggling St. Louis Blues team. With the win here, the Blues are now 8-1-2 under his command. So it's a tough comparison right out of the gate for Hunter to compete with.
Of course, it's not entirely fair, either. They have each won championships, it's just that Hitchcock's was in the NHL while Hunter's was in the OHL. Hitchcock, who has seen a lot in his coaching days, offered up his thoughts on the transition that Hunter is making from the juniors to the bigs.
"Well I think the one thing, he said it best, he's got satellite on the bus so he watched all the darn games," Hitchcock said before the game. "So he has a handle on the players, but it's a lot different when you're standing on the bench. It's making the right decisions under fire."
One thing that isn't going to start a fire yet but at least send off a few smoke signals was the ice time of Alex Ovechkin. The Caps captain has been a large focus of the recent slump in Washington, many saw -- while the two still deny it -- a rift between Ovechkin and Boudreau. His ice time was down this season. One of the things that has been repeated about a new start with Hunter would be a return to 21, 22 minutes per game for Ovechkin. On Tuesday he had just 16:46, well below his season average.
"In the second period there was all them penalties," Hunter said. "He wasn't killing so he didn't play as much. I thought he was pretty much out there a lot in the third."
Ovechkin did have an assist on the night, creating the play that led to the only Capitals score of the night. Taking the pass in his own zone from Vokoun, Ovechkin didn't try to race up the left boards as he has down countless times through his NHL days, instead he drifted to the open ice on the far side and waited for the cavalry to arrive. A backhand pass on the tape of Nicklas Backstrom from there gave the Caps their only lead of the game.
"Next step [is] to play hard like we play tonight, especially in the third period," Ovechkin said. "I think, I would say, energy was there, we make some hits, we did what he [Hunter] ask us to do and I think if we going to play the same way we going to get some success."
So it's funny how things flip. This team, this franchise which is in win-now mode, feeling that its window to a championship is wide open, is in a wait-now mode for the time being. Not every team can take off like the Blues under a new coach, but this was a start.
Photo: Getty Images
For more hockey news, rumors and analysis, follow @EyeOnHockey and @BrianStubitsNHL on Twitter.