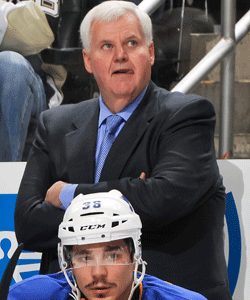 WASHINGTON -- Ken Hitchcock has a message for everybody about Bruce Boudreau: Don't worry.
"Bruce is a lifer, OK?" Hitchcock said before his Blues beat Boudreau's former team, the Washington Capitals on Tuesday. "So, for me, Bruce will recover the quickest of anybody because he's a lifer. So it wouldn't surprise me if, within the next 72 hours, Bruce is back in rinks again. He's a lifer. So he's a guy who will bounce back the quickest of anybody because he loves the game so much, he loves the people in the game."
That's the kind of impression Boudreau made in his first and only NHL job thus far. He racked up 201 wins in his four seasons with the Caps, becoming the fastest coach to hit the 200-win plateau. He'll sometimes talk too much, but he's a prety well-respected coach and the NHL hasn't seen the last of him.
Some will say they don't feel sorry for him or any fired coach one bit. It's not like a hourly-wage employee being fired or anything. But Hitchcock says you shouldn't feel bad for Boudreau being out his salary, but instead the day-to-day operations of being a coach.
"Understand what we're going through as coaches, being on the outs and sitting at home," Hitchcock said. "All the money in the world doesn't help. It's about wanting to be part of something."
He will be, Hitchcock has no doubt.
"I would be surprised if he wasn't back watching American League, NHL games within the next few days and bouncing back and ready to go. He's a guy for me I worry the least about because he's had to bounce back lots and he knows how to do it. He'll mentally position himself very quickly and get back in the saddle again."
Photo: Getty Images
For more hockey news, rumors and analysis, follow @EyeOnHockey and @BrianStubitsNHL on Twitter.