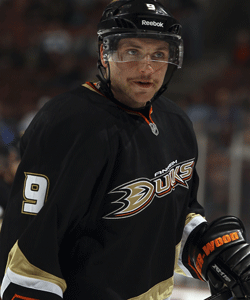 It looks like the insanity of the past 36 hours in hockey is done. Bobby Ryan is off the trade market.
At the introductory press conference for new coach Bruce Boudreau to replace Randy Carlyle, Ducks GM Bob Murray tried to nip all the talk in the bud now.
Asked about the trade rumors circulating around the team, Murray responded "I'm hoping everything settles down right now, and I think it will."
In case Murray's not-straight denial of the rumors ending isn't comforting, Nick Kypreos, the man who reported Boudreau was on his way out in Washington and also that Ryan was on the trade market, reported the Ryan development just before Murray's statement.
"#Ducks GM Bob Murray has assured Bobby Ryan he is off #NHL trading market today. Also told Ryan's desire to be moved is no longer an issue."
With that the Anaheim fans sighed and the rest of the league cursed. I never fully understood why the Ducks would consider shipping Ryan out of town. But it seemed like it before Wednesday and seems much more like after Wednesday that there was some kind of struggling going on between Carlyle and Ryan. I mean a coach telling a player to find inner peace and deal with the rumors, as Carlyle did to Ryan?
How else do you want to interpret being ready to trade a 24-year-old star one minute, firing a coach the next then saying said 24-year-old star is staying. I'm going to use my ability to reason on this one. If it walks like a duck, sounds like a duck, it must be a duck.
So Toronto, Philadelphia, Boston, New York and every other city that was salivating at the idea of trading for Ryan, put your tongues back in your mouths. It seems like this horror show is over.
Photo: Getty Images
For more hockey news, rumors and analysis, follow @EyeOnHockey and @BrianStubitsNHL on Twitter.