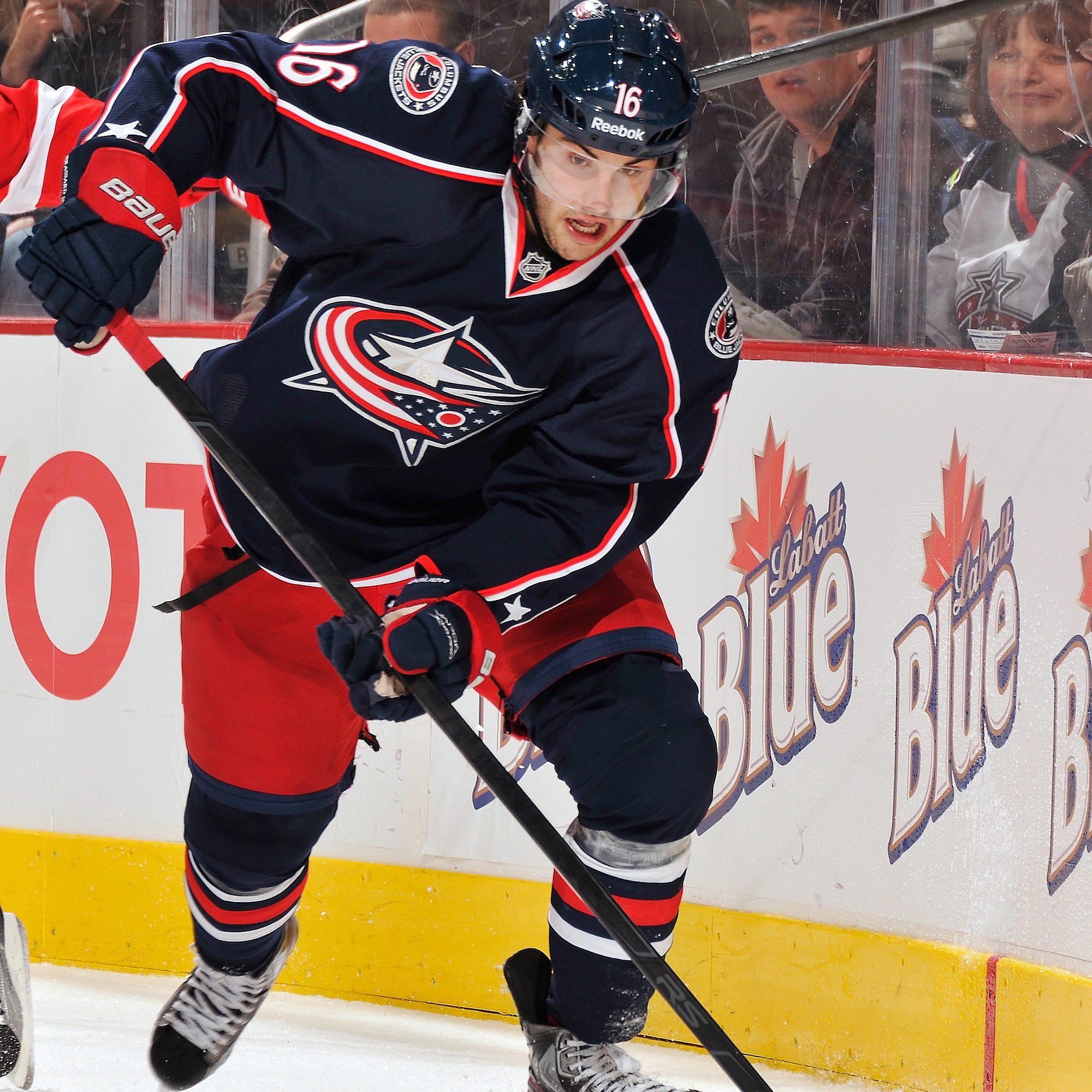 By: Adam Gretz
Derick Brassard
was the sixth overall pick in the 2006 draft by the Columbus
Blue Jackets
, and his career to this point has been a mixed bag of injuries and flashes of ability, all of which has been accompanied by a bit of disappointment.
After setting a career high with 47 points (17 goals, 30 assists) in 74 games last season, Brassard has struggled this year, recording just four points in 18 games for a Blue Jackets team that currently finds itself at the bottom of the NHL standings. He has been a healthy scratch in recent weeks, and is expected to watch Thursday's game in Calgary from the Press Box as well, which will be the seventh time in the past 10 games.
His agent, Allan Walsh, who has quite a history of making public statements in defense of his clients, ripped Blue Jackets head coach Scott Arniel on Thursday for his handling of the 24-year-old center.
Said Walsh in a statement,
via Puck Rakers
: "While I have tremendous respect for (general manager) Scott Howson and the rest of Columbus' management team, the situation regarding Derick Brassard has become untenable. The coach has a history of burying players and using them as scapegoats to mask his own lack of success on the ice. Derick has been singled out, almost from the very beginning of the season, to be the fall guy in case things don't go well. The Columbus organization cares about Derick and has been good to him, but at some point, one has to say, enough is enough."
Blue Jackets general Manager Scott Howson responded with a statement of his own, saying,"Scott has my full support with respect to his decisions on who plays and the handling of our hockey team. We all want Derick to play better and be the player we know he can be. The only person who will impact Derick's playing time is Derick himself."
That kind of sounds like a trade demand at the end of Walsh's statement, even though Aaron Portzline of the
Columbus Dispatch
says
Walsh made it clear he's not requesting a trade for his client
. Hockey Night In Canada's Elliote Friedman, for what it's worth,
reports that the Blue Jackets have "tried hard"
to trade Brassard with the Ottawa
Senators
showing interest. That wouldn't be the first time Ottawa has had an interest in one of Columbus' young players in the hopes that a change of scenery could spark something, having previously acquired goaltender Pascal Leclaire and
Nikita Filatov
.
As it stands right now, the Blue Jackets simply have centers that are better players and more deserving of the ice-time (
Antoine Vermette
,
Jeff Carter
,
Samuel Pahlsson
,
Mark Letestu
).
Brassard is signed through the end of the 2013-14 season
with an average annual salary of $3.2 million
.
Photo: Getty Images
For more hockey news, rumors and analysis, follow @EyeOnHockey and @agretz on Twitter.