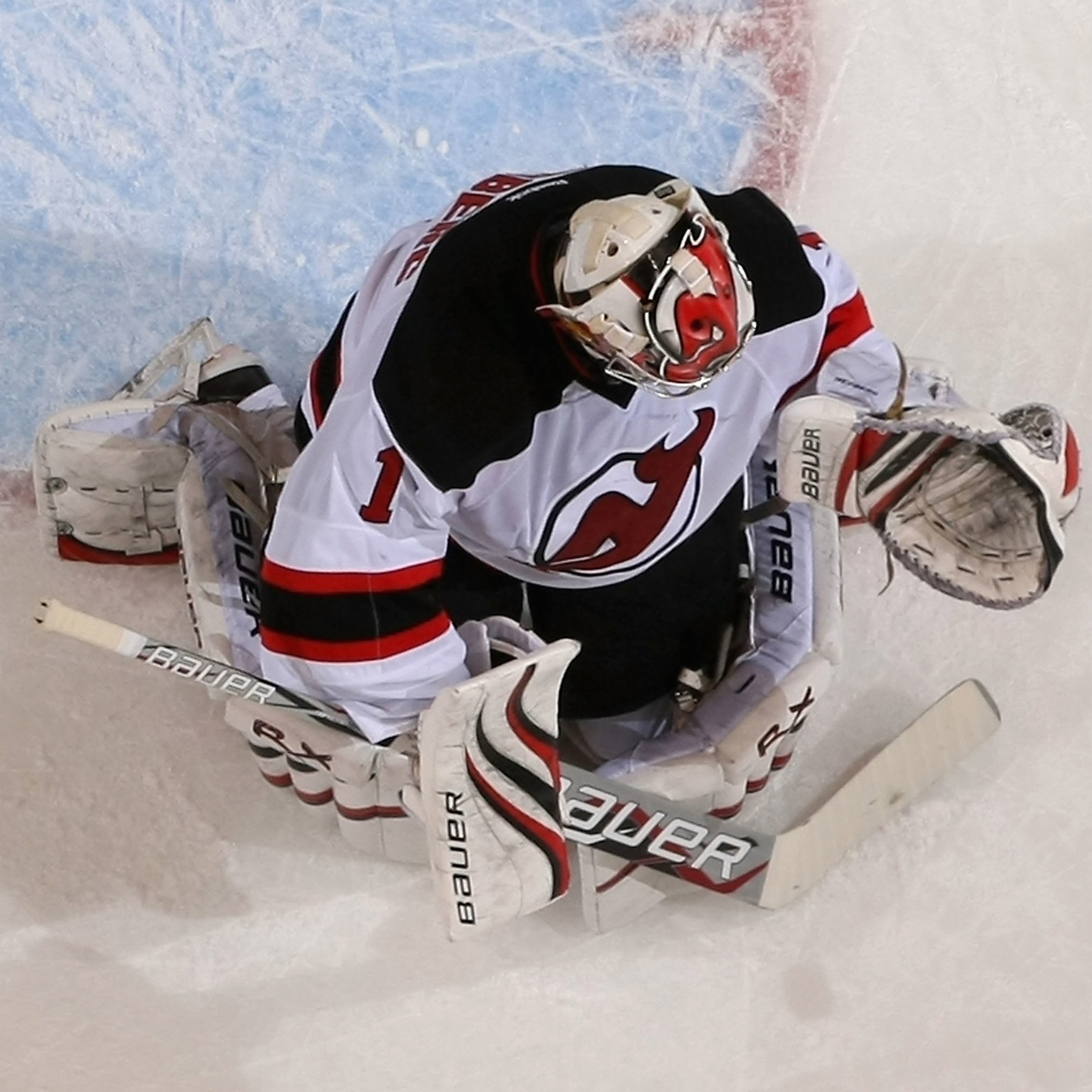 By: Adam Gretz
The New Jersey
Devils
have a goaltending problem.
Martin Brodeur
had one of the shortest outings of his career on Friday night, receiving the hook just eight minutes into the first period of the Devils 4-2 loss in Minnesota, after allowing three goals on just four shots. Devils coach Pete DeBoer defended his future Hall of Fame goalie after the game, saying that he re-watched each of the goals and concluded
that he didn't think Brodeur "could have done much on them,"
pointing out that at least one of them went in due to a deflection off of a skate.
Even if that is true, Friday's game was hardly the first time this season Brodeur has struggled. Over his past three starts he's stopped just 43 of the 55 shots he's faced for a terrible .781 save percentage. In his previous start, a 6-1 loss to the Colorado
Avalanche
on Wednesday, Brodeur allowed six goals on just 25 shots, including three on the first eight shots he faced in the opening period.
Said Brodeur after the game,
via Rich Cere of the Star-Ledger
, "You can't say you played well when you allow three goals in eight minutes or so. But when you look at the quality of the goals scored, it's not like I was weak or anything. The puck doesn't hit me. That's a couple of games. I'll try to work harder, I guess, and figure it out. You have to go back and work harder and hopefully the pucks will hit me."
Unfortunately, the puck hasn't been hitting him all that often going back to the start of last season, and it's getting to the point where you have to ask, once again, when backup
Johan Hedberg
begins to get the majority of the starts. The two veterans have already split the starts this season, due in large part to Brodeur's injury earlier in the year, with Brodeur getting the call in 13 games while Hedberg has started 11. But since Brodeur returned from his injury in early November, he's received bulk of the playing time and it's hard to ignore the results.
Of the 39 goaltenders that qualify for the NHL's save percentage lead, Brodeur is currently 38th with a .879 mark. The only goalie that's been worse is Columbus'
Steve Mason
at .875, and he's recently lost playing time to his backup,
Curtis Sanford
. Brodeur finished last season 35th out of 47 goalies. His .872 save percentage during even-strength situations this season is currently the worst in the NHL.
He is one of the all-time greats, but right now he's not even the best goalie on his own team, as Hedberg has outplayed him going back to the start of last season (Hedberg's save percentage over that stretch is .914 compared to an even .900 for Brodeur).
The bigger problem for the Devils, from a long-term outlook, is that neither one is going to be much of an option in future seasons as Hedberg, set to turn 39 in May, is the youngest of the two, while both are set to become unrestricted free agents after this season. And this summer's
group of potential free agent netminders
leaves plenty to be desired once you get past Minnesota's
Josh Harding
.
Photo: Getty Images
For more hockey news, rumors and analysis, follow @EyeOnHockey and @agretz on Twitter.