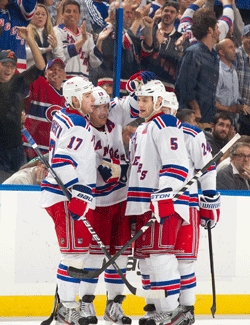 It's about time we start taking the New York Rangers seriously, wouldn't you say?
The view in the Eastern Conference is that it's the Boston Bruins and Pittsburgh Penguins followed by every other team. While that's still the case -- I mean, they have combined to win two of the last three Stanley Cups -- there has to be a setting at the table for the Blueshirts, no? (Yes, Flyers fans, Philadelphia too.)
It's amazing to think about a team from New York being overshadowed. Teams all across Major League Baseball wish that were possible in their sport. But this Rangers team is rather quietly just chugging along. The latest steamrolling effort came in Tampa, where Brad Richards returned to one of his favorite places and helped the Rangers take down his and coach John Tortorella's former team, the Lightning, 4-2.
Since losing to the Ottawa Senators 5-4 in a shootout on October 29, the Rangers have gone 12-2-0. They won seven straight games before dropping two on the road and then have since reeled off five wins in a row since being shutout by the Panthers on Nov. 23.
And how about Richards, the big acquisition in the offseason? In the most recent five-game winning streak he has four goals and five assists. Looking at the team's last nine games, Richards has points in seven of them. The only two he didn't get on the score sheet? The two losses.
Don't think he didn't savor a win in his old stomping grounds. From the New York Daily News.
"It was the first win I had back here, and I really wanted it," said Richards, who had lost both previous visits to Tampa Bay after being dealt to the Dallas Stars. "Torts wanted this one, too. I don't know if he wanted it more or not, but the way it ended here was a little frustrating, so I was really happy to get that one."

Tortorella said he and Richards meant no disrespect to Tampa Bay's current front office, including general manager Steve Yzerman, but recalled watching in February 2008 as then-Tampa GM Jay Feaster traded away the man who won the Conn Smythe trophy during the Lightning's Stanley Cup run.

"Not this organization, not the owners here or the people here, but the people that moved him had no clue," Tortorella said. "I was in the meetings. I watched it happen, and I thought they jammed it to him. How he was handled, I don't think he's too unhappy about getting a win here."
I don't think anybody that's in the organization or is a Rangers fan is too unhappy these days.
The problem in recent seasons in New York certainly hasn't been the goaltending. Henrik Lundqvist has been outstanding in recent seasons and could have been a Vezina Trophy winner at some point if he had a little more offensive help. Let's be honest, team success is helpful in winning individual awards and the lack of offense wasn't helping the team achieve a whole lot of success.
More from the weekend
Recaps
Stories
But things are finally clicking. It's no wonder the Rangers have won 12 of their last 14 games. In six of their last seven wins, the Rangers have scored at least four goals.
Marian Gaborik is back to scoring like he did before coming to New York. He has a team-high 12 goals. It would appear he's beginning to thrive again now that there is somebody else -- Richards -- to take a good chunk of the spotlight and expectations off of him, somebody to share those heavy burdens with.
Start spreading the news, the Rangers aren't leaving any time soon.
Moulson nice
The other team in New York, the Islanders, have been anemic when it comes to scoring goals. The offense has been horrible all season long. So of course they became the first team this season to have one of its players score four goals in a game.
The Isles needed all four scores from Matt Moulson on Saturday in Dallas, his final tally of the night being the game-winner.
"They [John Tavares and P.A. Parenteau] really gave me some good chances, all I had to do was sweep it into an open net," Moulson said. "The win's the biggest part. Score as many goals as you want, but the win's the most important thing."
The win in over the Stars caps off a very successful four-game road trip for the Isles. They picked up seven of the eight possible points, the only point missing came in Friday's shootout loss to the Blackhawks.
Yes, there is actually a hint of optimism on the Island again after another brutal start.
Good to have Gabby back
Bruce Boudreau's debut as the Anaheim Ducks coach was eerily reminiscent of his debut with the Capitals for years ago. His team was playing the Flyers, built a three-goal lead before losing it and going to overtime. The only difference was the Capitals won that game four years ago while a double minor in overtime cost his Ducks dearly as they lost in overtime.
But Boudreau had plenty of positives to take from the game, most notably the team's effort.
However it's what he said after the game that really caught my eyes and made me grateful Boudreau is already back in coaching. Having familiarity with the Flyers from his time in Washington, Boudreau said he was anticipating what Philly would do.
"I knew exactly what Philly was going to do," he said. "I knew the guys that were going to dive and they did. They got away with it. The only one that didn't get away with it was [Wayne] Simmonds. It looked like he got shot. And he went down until he start peeking and no one was calling it and then he had to get back up.
"[Scott] Hartnell looked like he'd gotten shot by a bazooka. He didn't miss a shift and then he comes in and scores the tying goal."
Props for dropping a bazooka reference on us, Bruce. The implication is that the Ducks didn't really deserve all of the penalty minutes they accrued to contribute to the loss.
I'm sure Philly fans will love Boudreau as much as Rangers fans after this.
Rude welcome
While the first leg of the Flyers' back-to-back was all about the opposing team and its new coach, the second leg was about one of the Flyers players.
For the first time this season, Ilya Bryzgalov started both ends of a back-to-back, and it's probably no coincidence that it involved playing in his former city, Phoenix (or Glendale, if you'd prefer). They saw the Bryzgalov they came to know and love, too.
The Flyers goalie was sharp enough to allow just two goals and lead his new team over his old team with a 4-2 victory.
"I was walking in the building, and I can't explain what I felt, but it's something," Bryzgalov said about his return. "I played here three-and-a-half years. Winning lots of games, losing lots of games. Part of my soul is left here.
"I was surprised if they were going to boo me because I don't think I deserved it. I think I did lots of good things for this city and for this team and same thing. They did lots of good things for me. I really appreciate everything they've done for me."
He shows his appreciation by beating his old team. Nice (we kid).
Rat pack
This is how you make people believe you're for real.
The Florida Panthers just made a quick cross-country trip for games in Los Angeles and San Jose. While they lost 2-1 to the Kings on Thursday, they outshot and pretty much outplayed the Kings.
On Saturday they went into San Jose and fell down early to the Sharks. The Panthers stormed back in the second period and eventually won the game 5-3. It was the first time this season the Sharks lost a game when scoring the first goal.
As is becoming common again, there were even a few plastic rats on the ice, even in California.
Of course, it was the top line of Kris Versteeg-Stephen Weiss-Tomas Fleischmann doing the damage again after Versteeg missed the Kings game with a bad neck.
Now the Panthers begin their third consecutive week (!) as the Southeast Division leaders by welcoming Tomas Vokoun and the Washington Capitals to Florida on Monday. Still quite stunning.
Unbeatable Bruins
This is as great of a run as we've seen in hockey in a long time. The Bruins just finished reminding the Toronto Maple Leafs who the boss of the Northeast is. After beating the Leafs earlier in the week in Toronto, the B's took care of the Leafs a second time, this time back in Boston, 4-1.
With the win, the Bruins haven't lost in regulation since Oct. 29. That's an entire month (14 games) of earning points in every game. The only non-two-point game was the shootout loss to the equally hot Detroit Red Wings on Black Friday.
There are a lot of heralded players on the team. One of them, David Krejci, just received a big extension from the club. Another guy that could soon be getting a nice new contract is Chris Kelly, and he'd be on the unheralded side.
But his goal on Saturday, the game-winner, was already his 10th on the season. He came in to Boston as more of what people love to call a "role player." (Resisting urge to rant ...) Now he is only five goals from matching his career high of 15, which he set twice with the Senators, most recently in 2009-10.
We'll have more on the Bruins later this week from Adam Gretz, but this is one helluva run
Quote of the weekend
There were a few candidates this week. We shared them already, lines from Richards, Bryzgalov and Boudreau.
But none were more interesting than what Ilya Kovalchuk had to say after the Devils lost their fourth straight, 4-2 in Winnipeg to the Jets.
Like a lot of other players this season, Kovalchuk was booed in his visit to the 'Peg. What were his thoughts on the matter?
"They should support me, maybe I'm one of the reasons they moved here." Ouch. Sorry, Atlanta.
Photo: Getty Images
For more hockey news, rumors and analysis, follow @EyeOnHockey and @BrianStubitsNHL on Twitter.