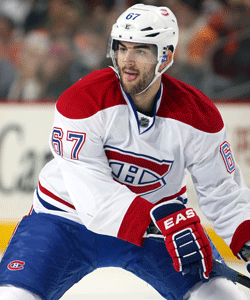 The honeymoon for Brendan Shanahan is over, the grace period gone. Now he's beginning to feel some of the blow back that Colin Campbell put up for years.
Montreal Canadiens forward Max Pacioretty just finished serving a three-game suspension for an open-ice hit that left Penguins defenseman Kris Letang with a broken nose. He wasn't overly pleased with the punishment from the start, and now he is getting in a little war of the words with the discipline boss.
For some, Pacioretty's hit on Letang evoked memories of Matt Cooke's shot on Marc Savard a couple seasons ago. According to Pacioretty, Shanahan is one of those people.
From the Canadian Press, Pacioretty insisted Monday that Shanahan compared the hit to the Cooke hit, something Pacioretty doesn't feel was fair.
"We didn't bring it up, [Shanahan] brought it up," Pacioretty said. "You can ask my agent [Alec Schall]. He was on the phone. Ask the GM [Pierre Gauthier]. It happened.
"In the back of my mind it's a completely different hit. Savard's a lefty coming across. He has no idea Cooke's coming from the other side of the ice. I'm not trying to get into comparisons, but they [the NHL] compared it to that and we compared it to [Tampa Bay's Ryan] Malone on [Montreal's Chris] Campoli."
Hey Max, I don't see the problem in the NHL comparing it to the Cooke-Savard incident. After all, Cooke received no punishment (it's never too late for some Colie humor).
"Every hit's different. That's what makes this tough," Pacioretty acknowledged. "There is always going to be that grey area. They're doing the best they can to crack down, but it's not consistent."
For what it's worth, Shanahan denied making a connection between the two hits in a radio interview. Although he didn't go so far as to say Pacioretty was intentionally lying, just that he was probably a bit emotional and took things the wrong way.
Welcome to the job where you can never please anybody, Shanny.
H/t to Pro Hockey Talk
Photo: Getty Images
For more hockey news, rumors and analysis, follow @EyeOnHockey and @BrianStubitsNHL on Twitter.