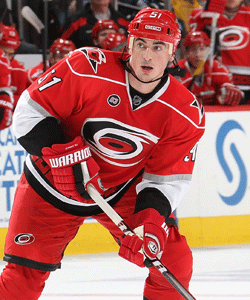 This summer, the Carolina Hurricanes invested $4.25 million per season for three seasons on Tomas Kaberle, a lot of people around the NHL could only laugh, but obviously the 'Canes had faith.
Fast forward to December and the 'Canes have traded Kaberle to the Montreal Canadiens -- as first reported by Darren Dreger -- ending a very short-lived but painful era for the folks in Carolina and, presumably, Kaberle. In return, the Habs sent defenseman Jaroslav Spacek to Carolina.
"This deal brings a solid, veteran defenseman to our team for the remainder of this season and allows us more flexibility with our roster moving forward," Carolina GM Jim Rutherford said. What he didn't say there was how happy he was he could find a taker for Kaberle.
That's a big burden off Carolina's back, $12.75 million over the next three years that the Canadiens are now on the hook for. Of course, Montreal is no stranger to bad contracts (ahem, Scott Gomez).
When discussing the deal that was signed this summer, Rutherford was about as honest as a GM can get, telling Chip Patterson of the News & Oberserver, "I should have known better." Ouch!
Meanwhile in Spacek, the 'Canes get a player making slightly less money ($3.83 million), and maybe more importantly get a contract that expires after this season.
In the end, you have to like this move from Carolina's perspective, don't you? The marriage of the two couldn't have been annulled quicker for 'Canes fans. To say that Kaberle has been a disappointment would be an understatement. In 29 games played, Kaberle is goal-less and has nine assists while sporting a hideous minus-12. One of his big responsibilities, moving the puck on the power play, hasn't been going swimmingly, either. The Hurricanes are 26th in the NHL in power play percentage.
So sending him out of town is a nice move for Carolina, regardless of what they net in return. Quite honestly, the return isn't all that much but another bad contract. Spacek, 37, has been limited to just 12 games this season and has just three points to speak of. Still, the deal doesn't seem bad for Carolina at all.
"I think that trade is good for me," Spacek was quoted by Renaud P. Lavoie of RDS. "I hope it will be a good one for the Hurricanes."
From a Montreal perspective, however, I'm left scratching my head a bit. What do the Habs stand to benefit from taking on my payroll for a longer commitment for a player that is, even nothing else, past his prime?
"There are no dangers, only opportunities," Canadiens GM Pierre Gauthier said about the skepticism of landing Kaberle. No dangers? Really?
It should have been warning enough that this now makes four teams in the last calendar year for Kaberle having begun last season with the Maple Leafs before being traded to the Bruins and joining them for the Cup run. He then signed this offseason with the Hurricanes, who couldn't wait to undo the move.
I'm sure he'll be welcome with open arms by the Montreal faithful hoping the team can turn things around (where's that damn sarcasm font button?).
Photo: Getty Images
For more hockey news, rumors and analysis, follow @EyeOnHockey and @BrianStubitsNHL on Twitter.