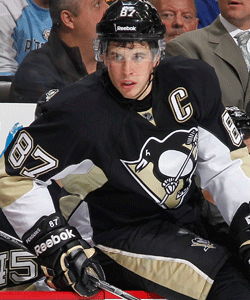 Just like that, Sidney Crosby watch is back on.
The Penguins announced last week they were going to withhold their superstar for two games as a precaution after Crosby said he wasn't feeling 100 percent following a loss to the Boston Bruins. We then shared that there were rumblings he could be out for longer than those two games.
That's definitely the case now. Caution will continue to be the word of the week as Crosby is going to remain on the sidelines for the time being.
"Not [feeling] bad," Crosby said. "I'm not happy about watching. But I have to make sure with these sort of things that I'm careful and making sure I'm 100 percent before coming back. No timetable."
"It's frustrating for Sid," coach Dan Bylsma said. "Sid knows his body better than anyone else. He's not feeling 100 percent. He'll return when he is 100."
If you're a Crosby and/or Penguins fan, you have to be worried about more post-concussion symptoms for the Kid.
"I did my ImPACT test and it went pretty good. That was a good sign. It's much different than previously going through that stuff. That was encouraging. I skated following day after with exertion. I just didn't feel right. After talking with everyone I figured it was better to be cautious and not take any chances. That's where I'm at right now.
"The ImPACT isn't everything. You have to listen to your body on these things too. That was encouraging. My ImPACT was much, much worse after I did it in January. This is something I have to be careful with."
If people weren't holding their breath before, they should be now.
"Yes [I've had symptoms the last couple days]. If I didn't I wouldn't be practicing.

"I've been doing light exertion stuff and seeing how that goes. It's that whole (recovery) routine again, but hopefully not as long. When I wasn't doing something for 6, 7 months that process was a little longer. Hopefully, that's not the case here."
When Crosby came back, the concerns people had didn't revolved around how he'd be as a player, but how he'd respond when he took another hit. The culprit in this case appears to be an inadvertent elbow to the head from David Krejci a week ago. While the tests didn't reveal a concussion, if he is feeling the symptoms again, it might as well be.
To scare Penguins fans even more, Josh Yohe of the Pittsburgh Tribune-Review points out that a lot of players have passed the ImPACT test only to be diagnosed with a concussion later.
So that's one of many questions at this point. Did Crosby actually suffer another concussion or did he have a setback? Crosby doesn't know how a doctor would call it, but he knows how he labels it.
"I don't even think frustrating begins to describe it," Crosby said.
Could we be looking at another long absence before he's 100 percent and able to return?
"I have a pretty good idea of these things now and I know this is not where I was before, so that is encouraging," Crosby said.
It certainly is, but the question is how much further along is he? He said he's better than he was in August, but remember that he didn't come back until mid-November. So that means Crosby Watch is back on.
Unfortunately, this is likely how Crosby's career will go from now on. He'll never get over the concussions that kept him out for almost a year. He might one day physically, but the questions will forever persist any time that Crosby takes a hit.
Here is video of the full interview.
Photo: Getty Images
For more hockey news, rumors and analysis, follow @EyeOnHockey and @BrianStubitsNHL on Twitter.