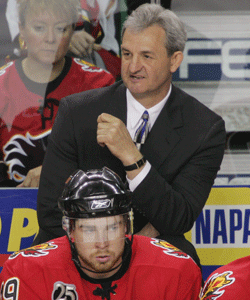 Kings coach Terry Murray became the fifth head coach to be fired this season on Monday. Los Angeles was the first team, however, not to name a permanent successor upon the firing, instead naming John Stevens as the interim bench boss.
It looks like it could be a very short stint as the head man for Stevens.
Rich Hammond, who writes for team-affiliated blog L.A. Kings Insider, reported early on Tuesday that the Kings had reached out to the Flames asking for permission to speak to Darryl Sutter.
Sutter, formerly the GM of the Flames who is without a position right now, is still under contract in Calgary. Thus, the Kings had to ask for permission first.
The story then mushroomed into reports that the Kings will hire Sutter and he'll be on the bench of Thursday's game in Columbus.
The only thing giving me pause is another blog from Hammond saying it might not happen quite that fast.
If the sides work out an agreement — Sutter would also have to reach a financial agreement with the Calgary Flames, in terms of the rest of his contract — Sutter could be announced as the Kings' coach this week, although it's unlikely that he would be behind the bench Thursday in Columbus.
Whether it happens in time for Thursday's road game or not, this much seems pretty evident. There is so much smoke the fire must be burning and Sutter will become the next Kings coach at some point in the very near future.
It certainly wouldn't surprise his brother Brent.
"There's a history with him and Dean [Lombardi, the Kings GM], going back to San Jose," Brent Sutter told the Calgary Sun. "It's not a shock to me if it does materialize.
"To me, that's where Darryl's niche is."
And I don't think that's going to win over all the fans in Los Angeles. Despite the fact that Sutter has a trip to the Stanley Cup Final on his resume as Flames coach and all in all is not a bad coach, Sutter's rep was soured by his GM duties in Calgary. Plus, his teams will play in the pretty much same defensive fashion the Kings had under Murray, just with a lot more edge.
It would come down to a matter of getting a new voice to try and get to the players. That's been the theme in all the firings this season, the coaches were being tuned out by the players, so new voices were needed (another cliché I'm growing tired of). Couldn't they just all go falsetto?
It's clear that by going from Murray to Sutter, GM Dean Lombardi really wants his team to play a defensive style. He had a coach he liked in Murray and, according to Darren Dreger, Lombardi let the team know they better get their butts in gear, because he didn't want to fire Murray, a coach he originally hired.
Lombardi expressed some of the frustration publicly too, courtesy of Frozen Royalty.
"It's simple," said Lombardi. "It sounds cliche, but it's true. Ultimately, the message is that they're accountable. Unfortunately, the coach has to pay the price. But make no mistake. They're the ones who are accountable for this."

Lombardi also stressed that it is not just a matter of young players like Drew Doughty or Jack Johnson not raising their level of play to expected levels. Rather, the veterans get at least as much of the blame, if not more.

"In the end, it still comes down to the player getting his focus, and being the best he can be," Lombardi explained. "With young players today, it's a challenge. But I don't think it's just the young players. I think it's been right across the board, so I'm not just pinning [this on the younger players]."
So what's your take, Kings fans and none; you like Sutter to L.A. or no?
Photo: Getty Images
For more hockey news, rumors and analysis, follow @EyeOnHockey and @BrianStubitsNHL on Twitter.