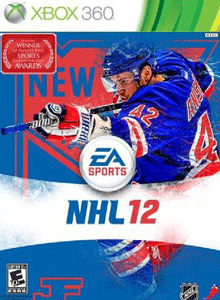 One thing we learned from the first episode of this year's 24/7 series on HBO, it's that the New York Rangers got a pretty good kick out of Artem Anisimov's stick-shooting celebration that set off a bit of an uproar from the Tampa Bay Lightning.
One of the top three moments of the show was when the Rangers walked back into the locker room after the second period where Anisimov was serving his misconduct. The first player to walk in was Sean Avery, who looked at Anisimov with a Grinch-like grin and chuckle. Marian Gaborik was next and had pretty much the same reaction.
"You shooting at the goalie?" a teammate is heard asking Anisimov.
"No," Anisimov responds. "Just reload my weapon, you know?"
While Anisimov, coach John Tortorella and some of his teammates did come out and say it was wrong, that doesn't mean they can't have any fun with it. So the teasing continues.
The above photoshop was tweeted out by the Rangers' Mike Rupp, who describes this particular version of EA Sports' NHL 12 thusly: "It's good, kinda a Hockey/Call of Duty hybrid."
Love it. I don't know about the rest of you, but this is probably my favorite part about watching 24/7, seeing the guys having fun with each other and interacting. We usually only see these guys on the ice, so it's great to see sides like this. Of course, Twitter has helped in that regard, too.
For more hockey news, rumors and analysis, follow @EyeOnHockey and @BrianStubitsNHL on Twitter.