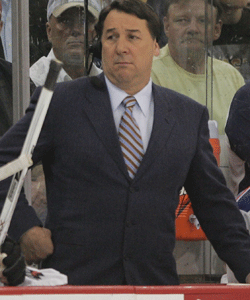 On Friday, word come out from Brookline, Mass. police that Mike Milbury, currently an analyst on both NBC Sports and the CBC, was being charged with assault and battery on a 10-year-old hockey player, threatening to commit a crime and disorderly conduct. The incident happened in a game involving his son, Jake, and a fight that broke out on the ice.
The typical statement was released from Milbury's legal representation, saying "Mike Milbury denies any allegations that there was an assault of any kind. He simply intervened in an altercation between his son and an opposing player. No one was struck, no one was injured and no one was threatened." It's very legalese and didn't say a whole lot, leaving vague the actual happenings.
But it didn't take long for Milbury to tell his full side of the story, which is backed up by some others who were there to witness it.
Milbury told the Boston Globe that Jake was targeted all game long by taunts from a player on the opposing team. It eventually led to his son's frustration boiling over and the two players getting into it.
"This was also after watching my kid get verbally bullied by the other player for over two hours," Milbury said. "It was the third time that night that Jake and the kid got into it, and that was the last straw for Jake. I mean, what kid can take that?"
What happened next is what's in contention now.
"I want to be clear about a couple of things," Milbury said. "No one was punched, kicked, or assaulted in any way. I know the 'Mad Mike' image that I have and all that. I love the game, I'm passionate about it, but I don't smack kids around. I grabbed the other kid by the sweater to stop a fight and, yeah, I swore at him. That's it. That's what I did.
"I yelled at him, 'What did you say?! What the [expletive] did you just say to [Jake]?!'"
Milbury's account of events was backed up by a parent of one of Jake's teammates, Peter Weiner.
Weiner told the Globe he was there throughout the night and that he witnessed Jake "being needled pretty much all game," and lauded Milbury for helping to restrain the skirmishing players.
"All he did was stop the kids," Weiner said. "And on top of it, he booted his own kid off the ice."
That differs only a little from the reported account from an opposing team's parent, from Deadspin.
Coaches from both teams went on to the ice to break it up, and at this point, says a Blackhawks parent, Milbury grabbed the victim's facemask and screamed at him, asking "What did you say to my son?" Milbury allegedly lifted the kid off the ground and shook him, yelling obscenities all the while, before dropping him roughly to the ice.
The accounts really are very similar. So the only gray matter there appears to be in this situation is how physical Milbury was with the other team's player. Milbury says he grabbed his jersey and swore. The other view says Milbury lifted him off the ground and shook the player.
With seeing the two sides so similar in their stories, I'd imagine it's a matter of perspective. Exaggeration often occurs in situations like this, but not on purpose. The moment is intense and sometimes things become more grandiose. Or in the other vein, sometimes a person doesn't really how far they might have gone.
Just my completely unqualified hunch, I'd be very surprised if anything serious came out of this for Milbury. If anything, I'd imagine he'll have some community service to do. But the damage to his reputation is already done and even exoneration likely won't take away the stain.
Photo: Getty Images
For more hockey news, rumors and analysis, follow @EyeOnHockey and @BrianStubitsNHL on Twitter.