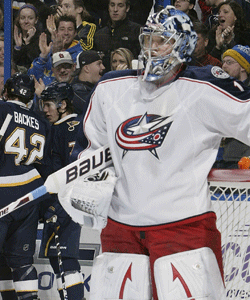 Pucks and Numbers: a weekly statistical look at what's happening around the NHL. This week: A look at the teams that are probably already out of the playoff race.
By: Adam Gretz
We are not even half way through the NHL season, but we have reached the point where a slow start in the standings is going to be too much to overcome, and you can probably already cross a handful of teams off when it comes to the playoff race. And perhaps more than just the teams you would expect.
The NHL has already seen six head coaching changes during the regular season (and who knows how many more to come), and now that Jacques Martin and Terry Murray have been let go by Montreal and Los Angeles over the past week, all eyes have shifted to Columbus and
Blue Jackets
head coach Scott Arniel. Earlier this week general manager Scott Howson refused to blame Columbus' brutal start, which currently has the team at the bottom of the Western Conference standings, on coaching issues.
The season started with such promise for the Blue Jackets, in large part because of the big offseason additions of
Jeff Carter
and
James Wisniewski
, players that filled two of Columbus' biggest areas of weakness -- A No. 1 center (Carter) and a big-time offensive defenseman (Wisniewski). Unfortunately, whatever optimism that might have been floating around the Blue Jackets fan base in the preseason was crushed almost immediately thanks to a 1-9-1 start the team hasn't been able to recover from.
The eight-game suspension to Wisniewski to start the season, as well as Carter missing extended time due to injury certainly didn't help matters, either.
Entering Tuesday's slate of games the Blue Jackets own a 9-20-4 mark, giving them a league-worst 22 points in the standings. They currently sit (again, as of Tuesday afternoon) 15 points of the eighth and final playoff spot in the Western Conference, which is now occupied by the San Jose
Sharks
.
Howson was asked about whether or not the season at this point is already a lost cause, and he refused to acknowledge that,
telling Aaron Portzline of the Columbus Dispatch
, "I'm not going to acknowledge that, no. Strange things happen in sports. We've certainly dug a hole for ourselves. It's a requirement of being in pro sports to keep banging at the door, no matter what's going on. So, no, I'm not going to acknowledge that."
Strange things do happen in sports, but here's something that hasn't happened in the NHL in its current playoff format: a team overcoming a deficit the size of the one Columbus faces to make the playoffs. More on that in a minute.
Meanwhile, out in Edmonton,
Oilers
general manager Steve Tambellini is reportedly still of the belief that his team, which currently sits six points out of the eighth spot in the West, can still make a run at the postseason,
a claim that has left even Oilers fans in disbelief
.
Does either team still have much of a chance? Recent history suggests that no, they don't. I'm aware that it's not exactly an earth shattering revelation to announce a team that is 15 points out of a playoff spot at the end of December is in danger of missing the postseason, but the point here is to see how possible it is to overcome that deficit, and whether or not it's been done recently.
Some things to consider:
-- Going back to the 2000-01 season, a span of 10 full seasons, there have been 62 teams that have been more than five points out of a playoff spot on December 20 (Tuesday's date).
-- Only four of them (or a little over 6 percent) were able to overcome that deficit to qualify for the postseason: The 2010-11
Sabres
(eight points), 2008-09
Blues
(six points), 2007-08
Capitals
(seven points) and 2007-08
Predators
(nine points).
You wouldn't think that being just five points in December would be such a tall mountain to climb, but it is. And along with Columbus, that's also bad news for the
Hurricanes
and
Islanders
(both nine points out), and leaves Tampa Bay, a team that was just one game away from reaching the Stanley Cup Final last season, and Calgary (five points out) right on the line. The
Ducks
, another playoff team from a year ago and just one point ahead of Columbus, are 14 points out and should also be considered out of the playoff race at this point.
-- You might notice Nashville overcoming a nine-point deficit in 2007-08 as the largest number, and since 2000-01, it is. There have been 29 teams that have been 10 or more points out at this point in the season since then, and none of them have been able to come back and qualify for the playoffs.
Even worse, if you go all the way back to the 1993-94 season, the year the NHL scrapped the divisional playoff format (Adams, Patrick, Smythe, Norris) and went to its current Conference playoff format (1 vs. 8, etc.), there have been 41 teams 10 or more points back.
Not one of them qualified for the playoffs.
For a team like Columbus or Anaheim to overcome this it would be completely unheard of in the current playoff format.
Ninety-five points has typically been a good bet to get in the playoffs, or at the very least, still be in the playoff discussion during the final week of the season. For the teams mentioned above to reach that mark they would need to finish with the following records over the remainder of the season:
Columbus Blue Jackets -- (Need 73 points in 49 games): 34-10-5
Anaheim Ducks -- (Need 72 points in games 49 games): 33-10-6
Carolina Hurricanes -- (Need 69 points in 48 games): 32-11-5
New York Islanders -- (Need 69 points in 52 games): 30-13-9
Tampa Bay
Lightning
-- (Need 65 points in 50 games): 30-15-5
Edmonton Oilers -- (Need 64 points in 49 games): 29-15-6
Calgary
Flames
-- (Need 63 points in 49 games): 28-14-7
Yeah, that's asking a lot, even for Tampa Bay and Calgary. Obviously, no team is going to throw in the towel on a season, nor do I expect a general manager to publicly admit defeat (which explains Howson's comments), but for the fans? Well, there's always next season. And for others (mainly Columbus and Anaheim), there's always prospective No. 1 overall pick Nail Yakupov
to look forward to
.
Photo: Getty Images
For more hockey news, rumors and analysis, follow @EyeOnHockey and @agretz on Twitter.