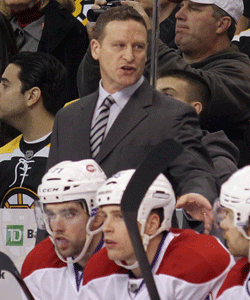 OK, this whole language fiasco is getting out of hand. Who knew the province would be so angry after Jacques Martin was fired as Montreal Canadiens head coach?
A lot of stink has been raised about the fact that interim coach -- as in, not the full-time coach -- Randy Cunneyworth doesn't speak French. Because of that fact and that fact alone, the decision to elevate Cunneyworth to the top spot has drawn a lot of fire.
So much is being made about it that now a protest is being planned by a Quebec sovereignty group to rally against the Canadiens' coaching decision. From the Montreal Gazette:
Mario Beaulieu, president of the French Quebec Movement, and Denis Trudel, of the French Movement Montreal, issued a news release Thursday saying a rally would be held Jan. 7 outside the Bell Centre to protest "the Anglicization of the Montreal hockey club."

The protest is scheduled to start at 5 p.m. ET, two hours before a game between the Canadiens and the Tampa Bay Lightning.

"We will be providing Quebec flags to Canadiens fans who, in waving them during the game, can also express their opinion," Beaulieu and Trudel said in the news release.

The team's managers don't respect French as the language of Quebec, the release alleges.
The complaints go on to say that they don't play enough French music at games, kvetch about announcements being read in two languages at games (yes, that's really ignoring French) all the way to the fact that there are only a few players on the team who speak French (so I get the sense these Quebecers would rather have a team full of French players who suck than a good team with Anglophones that is good). The final straw to break the camel's back is the coach.
More on Canadiens
Ray Ratto
Storm will die down as Cunneyworth makes Montreal adjustments Read
I understand full well the desire of the people of Monteal (and Quebec) to want a coach that can speak French. To me, it is a very valid request. But what I just don't get is the backlash against this move. People, the coach was fired midseason because your Les Habitants weren't living up to expectations. They didn't have a chance to find the coach they wanted on a full-time basis, so they made an assistant the interim coach. Let it slide.
This does not mean that the Canadiens don't understand what it means to play as Quebec's team. Of course they do, the Canadiens are tied in very tightly with Quebec as a province, as silly as that might sound. The concept of having a Francophone lead their team isn't lost on them. One of the team owners, Geoff Molson, said as much.
Wait until a full-time hire is made before beginning this protesting. If the Habs were then to go out and hire a coach who doesn't speak French, rail away, say the team doesn't respect its French fan base. I'd be fine with that as a reasonable complaint. But it's just not right in this case.
Of course I feel awful for Cunneyworth. This is a guy who is trying to make his way up the NHL coaching ranks and is getting his shot to lead an NHL team. But he is at the center of a firestorm that is really nothing of his own making, unless you feel like faulting Cunneyworth for never learning to speak French. At least the guy should be given a chance to learn French. Instead, from the moment he was "hired" the complaints have been rolling in.
For his part, Cunneyworth says he's not paying attention to the circus environment that it's becoming, telling the Winnipeg Free Press that his focus is only on the team.
"I'm not even concerned with that," said Cunneyworth Thursday at MTS Centre. "Those are stories I haven't even read or looked at or thought about. I have enough on my plate with the group we have. We're just trying to win some hockey games."

Asked if the negative publicity undermined his authority with the team, Cunneyworth added:

"I'm not reading those articles or listening to that kind of media. It may be going on, but I only know of it because I get the odd positive comment from a stranger or somebody who is close to me. But I'm not reading those articles, I'm not thinking about those things at this time. I'm really focused on the group we have."
If he is able to drown all this talk out, then maybe he does have what it takes to be an NHL coach. Either that or it's because he doesn't understand the complaints (bazinga!).
Who'd a thunk that being the first Canadiens coach to start 0-3 in his career since the 1920s wouldn't even be his most egregious act as boss of the storied Habs?
Something -- OK, a lot of things -- are being lost in translation here.
Photo: Getty Images
For more hockey news, rumors and analysis, follow @EyeOnHockey nd @BrianStubitsNHL on Twitter.