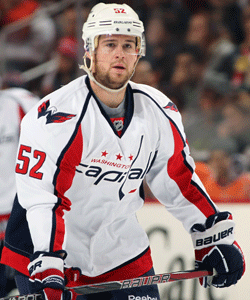 Mike Green says it's frustrating just watching hockey, even boring. Well his bore is about to be no more because Green is very close to returning to the Capitals lineup.
Green, the Capitals defenseman who has been out since suffering a groin strain in a Nov. 11 game, could finally return to the Capitals in the coming week, just in time for the New Year.
"I'll skate tomorrow again, see how I feel," Green told the media on Thursday after the Caps practiced. "You never know, maybe I could play [this weekend], but it looks like next week."
Whenever it is, the Capitals will take it. Consider this: With Green in the lineup this season, the Capitals are a perfect 8-0-0. Without him they're 10-15-2. Obviously he doesn't make all the difference in the Caps being unbeatable vs. mediocre, but he certainly helps make them go.
So clearly they'd love to have him back. But they'd rather be safe than sorry, so they'll all wait until he's absolutely ready to go.
"I think we want to play this safe," Green said. "Obviously I've been out for a long time and want to get back, but I want to make sure I'm ready to play. No need to put myself in a dangerous situation if I'm not ready."
The last thing they would want would be for Green to reaggravate the injury and miss more time. They would love to get back Green's offense from the blueline, something that helps the Capitals go, on the power play and at even strength.
Photo: Getty Images
For more hockey news, rumors and analysis, follow @EyeOnHockey and @BrianStubitsNHL on Twitter.