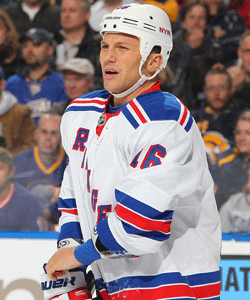 You could see this coming from a mile away. Ten miles even.
The New York Rangers placed Sean Avery on waivers on Friday, bringing an end to this chapter of his Rangers career. It clears the way for him to join another team -- if any are interested -- or go back to the AHL, where he started the season with the Connecticut Whale.
Avery was called up a few weeks into the season because of a host of injuries with the Rangers, most notably Mike Rupp. But now Rupp is back to being healthy and Avery hasn't played in nine games, a healthy scratch in each of them.
The Rangers started the season slowly -- which they obviously have remedied -- and it led to calls from Rangers fans to get Avery back with the team, they needed some spark. Avery was recalled and the team took off. It was more coincidental than anything, but it coincided with Avery's callup.
It could make for an interesting scene in 24/7, but I don't think it will get much of a mention. But that's one thing we've seen in HBO's Hard Knocks series, covering NFL teams in their training camps, seeing players get cut from the rosters.
So now what comes next for the 31-year-old winger who is more known for his antics and off-ice noise than his game? We'll have to wait and see. Larry Brooks of the New York Post reports that Avery's agent was given permission to seek potential landing spots with other NHL teams during the recent roster freeze. Considering he has gone through the waivers process unclaimed already this season, it doesn't seem likely a team will take a flier on him now.
I still think Avery can have some value to teams. He is a high-energy player who was on his best behavior in his time with the Rangers this season. It might be hard for you to believe, but Avery only took one minor penalty in his 15 games with the Rangers, scoring three goals. But he is a bit toxic from some of his past. I'd be surprised if somebody wanted to take a chance on him.
Let's put it this way: Would you want Sean Avery on your team?
Photo: Getty Images
For more hockey news, rumors and analysis, follow @EyeOnHockey and @BrianStubitsNHL on Twitter.