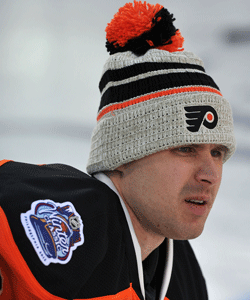 Ilya Bryzgalov had possibly the greatest goalie masks I've ever seen made especially for the Winter Classic. He has been largely seen as the MVP of HBO's 24/7 series. But he's not going to start when the big game begins on Monday in Philly.
While Flyers coach Peter Laviolette hasn't announced who his starter will be and Sergei Bobrovsky wouldn't say, Bryzgalov had no problems about releasing the team's plans.
"I have great news and even better news. OK, great news is I'm not playing tomorrow night," Bryzgalov told the gathered media. "Better news is we have a chance to win the game tomorrow night."
That's why so many people enjoy Bryzgalov. The self-depricating humor and refreshing soundbites. So I think that news will make a lot of people disappointed, Bryzgalov included.
"Yes, I did ... of course, I said yes. I'm a human. I'm not made from the steel. But it is what it is, I had a good practice today again like yesterday and two days ago. We just keep moving forward and have lots of games in front of us, lots of hockey. I heard it was still main goal in Philadelphia to win the Stanley Cup and prepare for this."
So that means the start will go to Bobrovsky, who started Philly's last game, Thursday's win over the Penguins.
The question everybody wants to know from The Universe -- Bryzgalov's new nickname -- what will his mindset be tomorrow? You know you'll never get a classic, cliched quoted with Bryz -- thankfully.
"Make sure I not forget early in the morning my thermos, put some iced tea and enjoy the bench," Bryzgalov quipped.
Later on Sunday Bryzgalov sent a tweet with a photo simply labeled "My thermos."
It's a touch disappointing for Bryz to not be playing from a fan perspective but it's pretty easy to see why Laviolette would start Bob. In three of his last four starts, Bryzgalov has given up at least four goals including five in his most recent start, Tuesday in Tampa Bay. On the season his goals against average is 3.01 and he has a save percentage of .890. Flat out, he just hasn't been getting it done recently. So in that regard, it's no surprise.
It's a reminder that no matter how big the hype is around the Winter Classic, it's just another game in the 82-game regular season.
Photo: Getty Images
For more hockey news, rumors and analysis, follow @EyeOnHockey and @BrianStubitsNHL on Twitter.