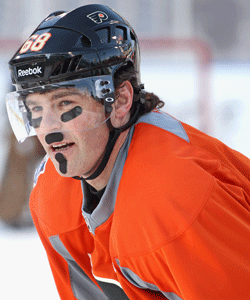 For the second consecutive year, the Winter Classic will not begin when it was initially scheduled.
The NHL announced on Sunday that the start of the game, originally slated for 1 ET, has been pushed back two hours to begin at 3 ET.
From the NHL's release:
The revised start time is based on tomorrow's weather forecast and should offer optimal game conditions for players and fans.
The result will be felt in a few ways, all of which are positive in my mind. First of all, by 3 the sun should be below the top of the stadium, meaning it won't be shining directly on the ice. That will help keep the temperature down, the ice crisp and perfect as well as reducing a lot of the glare the players were going to have to deal with.
The Flyers had an early practice on Sunday and had to deal with the glare and heat. Players, like Jaromir Jagr in the photo above (soul patch included), were sporting the ol' eye black to help with that problem.
As soon as the practice was done, the ice crew laid down tarps over the logos because the sun can also make the logos on the ice bleed, a problem we saw a little bit in the Chicago Classic.
Remember, the Alumni Game was also pushed back to 3 ET on Saturday and that went off well after the change in start time. And it's unlikely to have much of a negative impact, if any.
"Time change? I think once you see what happened to the first game that was played here, I'm sure that you have to think about
it," Rangers coach John Tortorella said. "So it doesn't change anything as far as they just move your hours up a couple as far as your game and all that, so it doesn't change anything."
It means that the game will come to a close under the lights of Citizen's Bank Park like it was last year in Pittsburgh.
Personally, I don't get why the NHL doesn't push these games back anyway. It certainly didn't deter the viewing base on television as last year's game was the most-viewed Winter Classic so far.
If the NHL can get off the insistence of having the game at 1 ET every season it will open up the opportunities to go West. That's one of the big deterrents at the moment for placing in the Pacific and Mountain time zones. But maybe the NHL is realizing that the glare of the sun doesn't help matters and prime time games might be better for the play, let alone the viewership.
Another benefit from the later start, our friends on the West Coast can actually sleep in and still watch the game.
For more hockey news, rumors and analysis, follow @EyeOnHockey and @BrianStubitsNHL on Twitter.