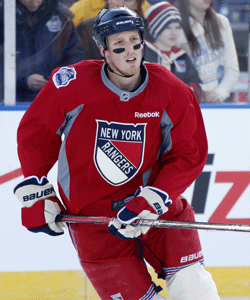 PHILADELPHIA -- It's becoming a Staal family tradition.
Just like his brother Jordan for the Pittsburgh Penguins one year ago, New York Rangers defenseman Marc Staal is going to make his return in the Winter Classic today as the Rangers take on the Philadelphia Flyers.
Marc Staal has been out all season long, being shut down in the preseason for precautionary reasons. He didn't play for the remainder of 2011 because of a concussion. But with the new year comes a new start and Staal is finally healthy enough to return.
"I sat down and asked him, 'do you want to play?' I've heard so many different things and Marc was talking quite a bit," coach John Tortorella said before the game. "I said 'Staals, I don't care about anybody else's opinion, are you OK to play?' He said he was, so he's playing."
The next question becomes about what the Rangers can expect from Staal in this game. He hasn't played since last season's playoffs so presumably there's a lot of game rust to get rid of.
"If Marc Staal tells me, and as I've told you all before, I needed a yes or a no. I got a yes from my trainer, I got a yes from my doctor and more importantly I got a yes from the player," Tortorella said. "He's going to play. I don't care if we're playing in a creek somewhere, he's going to play.
"As far as the minutes and the things that go along with Marc Staal, that's going to take time as far as where he's going to sit within our lineup. He'll play in the third period today and we'll make judgments as we go through. We're not putting him in a top four position and we'll make judgments about his game as it goes along here and he starts playing again."
As for who the Rangers will sit, Tortorella said before the game that he hadn't even made the decision yet.
"I haven't even talked to the player yet because not even all the players are even here yet. I'm still not sure."
That's going to be a knee to the gut for whichever player that will be. Imagine preparing to play in the Winter Classic only to arrive at the stadium and be told you're out. Ouch.
The Winter Classic's faceoff was moved back to a 3 p.m. ET start because of temperature and concerns over the glare on the ice
Photo: Getty Images
For more hockey news, rumors and analysis, follow @EyeOnHockey and @BrianStubitsNHL on Twitter.