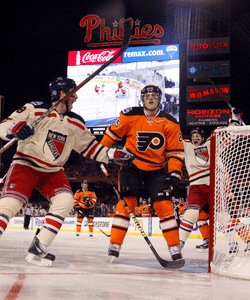 PHILADELPHIA -- You always hear about how important the next minute after a goal is. The game can flip like a switch in a heartbeat. One second a team is celebrating their goal, the next they're reminded to get back in the game.
That's how the 2012 Winter Classic flipped and how the Rangers came away with the win. For the first 35 minutes or so it was all Flyers. They had the chances, they had the possession and they had the lead.
The Rangers have guys who can do that. Marian Gaborik, Brad Richards ... they both come to mind. Mike Rupp can flip momentum in a game too, but that's usually by dropping his gloves, not by dropping pucks in the other team's net.
It was Rupp's goal just 49 seconds after Matt Carle gave the Philadelphia Flyers a 2-0 lead in their (neighbor's) house. That's when the Rangers finally seem to find their footing on the patchwork outdoor ice of Citizen's Bank Park, just shy of 38 minutes into the game. Or maybe it was his Jaromir Jagr salute after the goal that juiced up the Rangers. Either way, they had life.
"The crowd's going, you're down 2-0," Rupp said after the game while sporting the Broadway Hat, the Rangers' victory token this season. "Any game that you get that next shift -- there's times where you're looking to maybe pick a fight, you're trying to get a big hit, you're trying to play in their zone -- just to change the tide a little bit. I think a goal is the best way you can but it's just trying to throw things at net and keep it simple."
That's a good way to describe it, it was simple. It wasn't a thing of beauty -- nothing that's going to make Rupp look like the scorer that he isn't -- just a wrister from the slot with a defenseman trying to close the shooting lane.
"It was a key moment of the game because they had all the momentum on their side," Rangers coach John Tortorella said. "Again, the game is a series of momentums, how quickly you get it back vs. losing it. We go down 3-0 that's tough sledding, as far as trying to come back there. We end up scoring the next goal right there and it puts you right back in."
As for that salute? Well at first Rupp didn't want to talk about it, pulling a Peter Laviolette and saying "I don't know what you're talking about" with a smirk. But it happened, and he knew it.
"No pre-thoughts, just kind of excited in the moment," Rupp said.
The Flyers and Scott Hartnell sure seemed to notice it as he appeared to be chirping at Rupp before the third period. You were thinking that's how Rupp affects a game for the better for his team, with a little tangle, not a stick and dangle.
"He [Hartnell] just wished me a happy new year and I did the same," Rupp said, leaving what's said on the ice to stay on the ice. "So, hopefully he has a good year and he wished me the same."
More Winter Classic Coverage
Good thing for the Rangers that didn't result in a fight. It was within the next few minutes -- when Rupp would have still been serving a five-minute major if he did fight -- that he struck again.
It was Rupp again that tied things up and took us back to square one, before the lights were making an impact on the ice. His high, short-side goal somehow leaked by Flyers goaltender Sergei Bobrovsky.
From there it was all Rangers, save for the final two-minute flurry from the Flyers after the flurries had finished falling at Citizen's Bank Park.
"We've been a good third period team all year long," Tortorella said. "We just wanted to just try to get pucks to the net and grind away. I thought we really started grinding -- and really in the conditions that's the only way you're going to be able to play. It suited well for us. I don't think we did a good job in the first half but I think we found ourselves as it went on."
As big as that first goal for Rupp was, the key to this game for New York might well have been the first period. The ice was tilted -- against the wind, mind you -- in favor of the Flyers. They dominated play. It was all Philly. Still, the Rangers took the long walk back to the clubhouse through the third base dugout at a 0-0 tie. The Flyers had some very good chances to notch the first goal then but couldn't get it in.
That won't be as obvious of a key to victory as Rupp's two goals, but it certainly was.
"Early on in the first period there a couple breakaways, some breakdowns, he makes the saves there," Tortorella said. "He was put right on the center stage there and answered."
Lundqvist is used to center stage. He owns center stage. But Rupp? It's not often he gets to have the leading role. That would explain his humility with the Broadway Hat on. Either that or he was really humiliated. Artem Anisimov interrupted his interview after the game and asked 'Why they give you Broadway Hat?"
"Just wanted to see how dumb I look because it doesn't fit," Rupp responded. "Good question."
It might have looked dumb, but it had to feel great. The whole thing had to feel great, really. From playing in the Winter Classic again and getting the snow he wished for last year -- albeit briefly -- to scoring two goals, his first two since returning from injury.
"It was a great experience again and it feels good to win this time," Rupp said, referring to last year's Winter Classic loss while a member of the Pittsburgh Penguins. "I just got to shoot the puck twice and fortunately it went in.
"You want to contribute; I was able to tonight so it felt good."
Photo: Getty Images
For more hockey news, rumors and analysis, follow @EyeOnHockey and @BrianStubitsNHL on Twitter.