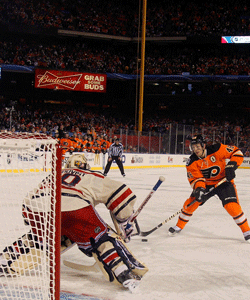 PHILADELPHIA -- For the first 35 or so minutes, the fifth edition of the Winter Classic was on its way to being the most forgettable. By the end, it was one of the most memorable. And it was a Henrik Lundqvist save away from being the most controversial.
With 19.6 seconds left and a mad scramble in front of the Rangers net, the play was blown dead. What came next was a penalty shot from Danny Briere, the Flyers trailing 3-2, the result of Ryan McDonagh covering the puck in the crease according to the officials.
It was the most dramatic moment in a Winter Classic to date.
"It was just a big scramble in the end they started to get pucks in front," Lundqvist said. "I didn't really see the puck I just stretched out my right leg and tried to stay on the post there and then I hear the whistle and then I hear the ref 'penalty shot.' I couldn't believe it."
Not surprisingly, neither could Rangers coach John Tortorella. "The penalty shot, I still don't understand."
The fans came to their feet when Briere circled in his own of the ice, getting ready for the chance to tie the game. Briere got the call instead of Claude Giroux, tied for the NHL's league lead in points after his beautiful backhand goal earlier in the game.
"We had a choice between the guys that were on the ice," Flyers coach Peter Laviolette said. "It comes down to really between Danny and Claude, they're both regulars in the shootout. I think Danny, being a natural goal scorer, thrives in that area a little bit more. It was my decision."
So Briere came down deliberately, eventually firing the shot at Lundqvist's five hole. Denied.
More Winter Classic Coverage
"I just tried to be patient and do my thing," Lundqvist said. "He's a tricky guy. If I make the first move he's going to score. Obviously there's a lot of pressure on me there. I couldn't believe when he called it a penalty shot but it was exciting. The whole game was exciting. The end was pretty intense but it was great."
It was definitely intense. The Rangers had to find every bit of strength to hold off a massive Flyers push to close the game that was aided by some penalties, ones that Tortorella wondered about after the game. For as forthright as Lundqvist was admitting to his surprise, Tortorella was as subtle as an elephant walking across down the street.
"I'm not sure if NBC got together with the refs or what to turn this into an overtime game," Tortorella said afterward. "It started with the non-call on Gabby's [Marian Gaborik] walk, he gets pitch-forked in the stomach and then everything starts going against us.
"For two good referees, I thought the game was reffed horribly. I'm not sure what happened there. Maybe they did want to get it to an overtime. I'm not sure if they have meetings about that or what. They're good guys, I just thought tonight, in that third period, it was disgusting."
One of those calls that didn't go their way was against Rangers captain Ryan Callahan. He was advancing up the left wing with about a minute to go, hunting an empty-net goal to end the suspense. He was taken down by Kimmo Timonen. Instead of a goal for the Rangers, Callahan was called for holding the stick to match Timonen's interference.
"Apparently I was holding his stick," a bewildered Callahan said after the game. "The stick was up by my chin. It was a tough one."
As a result Callahan, one of the Rangers' best shot-blockers, was left to watch that dramatic sequence from the penalty box.
"I was in the box but from what I saw it looked like Richards was pushing the puck out of the crease," Callahan said. "Hankie then comes up with a huge save to win it for us."
It was a huge save that likely saved the Winter Classic conspiracy talk from being at a fever pitch. What Tortorella said was a bit tongue in cheek -- I think -- but there would have been a lot more of the same cries coming from outside.
It certainly made for one memorable finish, that much can't be disputed.
Photo: Getty Images
For more hockey news, rumors and analysis, follow @EyeOnHockey and @BrianStubitsNHL on Twitter.