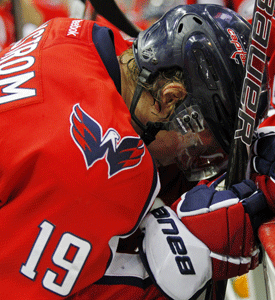 While we await Brendan Shanahan's verdict of one repeat offender's actions in Daniel Carcillo, he added another repeat offender to the list of pending suspensions on Tuesday.
Calgary Flames forward Rene Bourque seemed to go out of his way in Tuesday night's game against the Washington Capitals to hit Caps leading scorer Nicklas Backstrom. Despite the puck being up the ice already and it happening behind the play, Bourque gave Backstrom an elbow anyway. To the head. And it's all that he gave him.
The result was a two-minute minor for elbowing, Backstrom having to be evaluated after the game -- though he did play after the hit -- and a hearing being scheduled for Wednesday with Shanahan.
Here are some replays of the hit for you to judge for yourself.
It goes without saying that the Capitals are probably holding their breath right now regarding Backstrom's health. He has been their best and most consistent player this season, an easy pick to go to the All-Star Game representing the Capitals. He assisted on all three of Washington's goals in the 3-1 victory.
"We removed him from the game, it was precautionary," coach Dale Hunter said on Tuesday night. "He was getting evaluated right now. We'll know more tomorrow."
On Wednesday, Hunter called Backstrom day to day.
As to the repeat offender status, Bourque was given a two-game suspension earlier this season from Shanahan for a boarding hit on Blackhawks defenseman Brent Seabrook.
After the game, Bourque told the Washington Post that he wasn't even really aware if anything had happened.
"Did it look really bad? Was he hurt? I didn't even know if I clipped him," Bourque said. "I didn't even know if I hit him in the head."
Well, he did hit him in the head. So now we all know what comes next. Bourque, who has 13 goals and three assists on the season, will be banished to the corner for a timeout for a couple of games.
Photo: Getty Images
For more hockey news, rumors and analysis, follow @EyeOnHockey and @BrianStubitsNHL on Twitter.