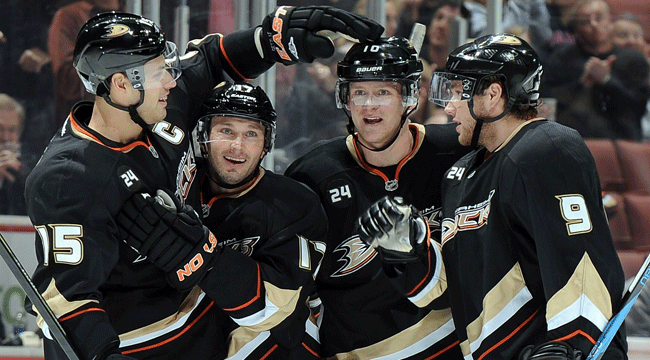 Pick a Duck, any Duck. You can have him if the price is right.
That was pretty much the message that Anaheim Ducks GM Bob Murray sent to the NHL on Wednesday. The only difference? There are two untouchables: Teemu Selanne and Saku Koivu, two of the Ducks' three players over the age of 36. They each have no-trade clauses. But if Selanne were asked to be traded, then even he'd be available.
The rest; Corey Perry, Bobby Ryan, Ryan Getzlaf, Cam Fowler and the others? Hey, make an offer.
"And the rest of the players in that locker room, I thought they'd figure out when we changed coaches that time was running, the clock was running quickly here. And I don't care who you talked about," Murray said after the Ducks' 3-1 loss to the Sharks on Wednesday.
"But we will not go to draft picks. It's not my intention."
So it has come to this. I don't think many saw this happening in Anaheim this season. Was it a team with flaws coming into the year? Of course. There's not a lot of depth at the forward position and the defense could be better as a unit.
But who saw Jonas Hiller struggling this much after dealing with vertigo last season? Who saw a team with Perry, Ryan, Getzlaf and Selanne struggling so much to score goals? Who saw the Ducks having only 10 wins though 38 games?
Not many, if any. A coaching change didn't work. Letting the players try and work through it hasn't gone so well. What's left then but to head to the trade market with some amazing assets?
So let the rebuilding begin, right? Well we're going to play a little semantics game and say no. Let the retooling begin.
"We're going to get ready for next year," Murray said.
"I think this team can be turned around to make the playoffs next year. I think it's going to be hard to do it this year but I do want them to make a run. But it's got to happen quick. Everybody knows that. ... Let's start playing better hockey."
Honestly, at this point the last thing I'd hope for if I'm Murray is false hope. This hole is pretty much insurmountable. My colleague Adam Gretz detailed that in a recent edition of Pucks and Numbers.
Murray is in a better place than most GMs trying to do the same. He has a lot of desirable players at relatively cheap prices to move. It's pretty easy to get talented players to help you compete now when dealing from such a position of strength.
The hottest name for most of the season, of course, has been Bobby Ryan. Just before Randy Carlyle was fired, there was a lot of speculation that Ryan was going to be the one hitting the road, not Carlyle. Instead, Carlyle was replaced by Bruce Boudreau and Ryan was seemingly pulled off the block. That didn't last long.
It's a really tough spot for Murray. On one hand, the need for change is obvious. This roster just isn't getting it done. On the other hand his trio of Ryan, Getzlaf and Perry is incredibly talented, young and reasonably priced. That's a great mix, who would actually want to get rid of that? Hence, rock and a hard place. How many of the available players do you trade? All of them? Just one?
"I still believe we have some core players. Now, whether we have to change a few core players, so be it," Murray said. "They're deciding who's staying and who's not staying at this point."
I'd anticipate Murray being pelted with offer after offer for any one of these guys. Of course the price will be high. Murray has made it clear that he wants proven NHL talent in return. What team wouldn't want to get its hands on any of Anaheim's top players?
And I'll just throw this out there: The Anaheim Ducks and Toronto Maple Leafs have done business with one another plenty of times in the past.
Now have fun playing with Cap Geek's trade calculator. See if your favorite team can swing a deal.
Photo: Getty Images
For more hockey news, rumors and analysis, follow @EyeOnHockey and @BrianStubitsNHL on Twitter.