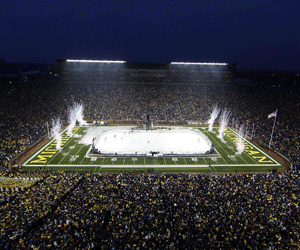 Last year it seemed pretty clear that the Rangers would be playing the Flyers well in advance of the NHL's September announcement for the Winter Classic. The host, at least, seems even more inevitable for 2013.
In perhaps the lock of the century, you can feel safe in expecting that the game will be held in Michigan. Other than who would the Detroit Red Wings play is the all-important question of where would the game be played? Many think that Comerica Park, home to the Detroit Tigers and owned by Wings owner Mike Illitch, would be the site because of the Illitch connection.
But the Big House in Ann Arbor -- the University of Michigan's football stadium -- is in play. That's no longer just speculation.
"We have been approached by the NHL about utilizing our facility for the 2013 Winter Classic," Michigan athletic director Dave Brandon said in a statement. "There are a lot of complex circumstances that need to be ironed out before anything moves forward. We will have more to say if/when something materializes."
Well that's a start. It means that the idea certainly isn't out of play. Of those complex circumstances to sort out would likely be how revenue is split and, all importantly, whose pizza will be sold? Illitch is behind the Little Caesar's brand while Brandon used to be chairman and CEO of Domino's.
Hosting an outdoor hockey game at the Big House would be nothing new. Back in 2010 the school suited up the stadium for a hockey game between the Wolverines and Spartans of Michigan State. More than 109,000 fans were in attendance to see the Wolverines win 5-0.
It would give the NHL a crowd number they would never seen again and, being that it's Michigan, weather likely wouldn't be a concern at all.
Here's my question with the Big House, though: People share their worries about the idea for the Winter Classic losing its appeal, having the novelty wear off. Well would playing a game at a stadium where its already been played before contribute to a "been there, done that" burnout?
It's likely going to come down to those two sites, so which would you rather see?
Photo: Getty Images
For more hockey news, rumors and analysis, follow @EyeOnHockey and @BrianStubitsNHL on Twitter.