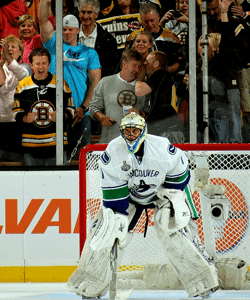 Weekend Preview: Vancouver and Boston meet again
The Vancouver Canucks head to Boston for the rematch against the Bruins from last year's Stanley Cup Final. It was a house of horror for the Canucks, goaltender Roberto Luongo in particular.
Three games were played in Boston in that series and the Bruins won all three by a combined score of 17-3. The first game was an 8-0 blanking by the Bruins and Luongo was in goal for all of it. He gave up all but two of those 17 scores.
Fast forward to this season and it seemed to take Luongo a long time and a lot of boos to get back into the form that saw him earn a Vezina nomination last year. He's been significantly better of late, including a shutout in his last start, Wednesday at home against the Wild. So now he gets to go and face down some of his demons, right?
Wrong.
Canucks coach Alain Vigneault announced on Friday that it's going to be Cory Schneider getting the start against the Bruins, not Luongo. His reasoning is that Schneider, who is from Boston and played college hockey at Boston College, has earned the start in his hometown.
"I would have liked to play the game," Luongo said Friday, "but in fairness to Cory he's from here and deserved to play -- I'm all for it."
I'm thinking the hometown start angle is malarkey.
I won't rule out that it really could be as simple as wanting to let Schneider start a game back in Boston. But it sure has the look of Vigneault holding Luongo back from this game in particular, doesn't it? How often do you see goalies benched the game after a shutout (and when it's not a back-to-back)? Not often.
There are three schools of thought on this, best as I can tell. The first is why risk damaging Luongo's confidence that has been built back up? With the way the Bruins are playing, the Canucks could be run out of the building. The second, which is the one I lean toward, is Luongo shouldn't be sheltered and should instead face that team in that building. The always say that the best way to overcome your fears is to face them head on.
The third school is that it's just a game in January.
I personally don't think a midseason game is going to do much one way or the other. If Luongo were to beat them, it wouldn't be the end to the talk of struggles and if he were to get beat badly, I don't think it would shake up to an unrecoverable level.
I think Vigneault should continue to play the hot goalie, the one that is playing well. I think it sends a bad message to Luongo if he is being sheltered, it's admitting two things: 1) that Luongo has a shaky psyche and 2) he doesn't like the odds of winning in Boston.
Is Vigneault making the right call here or not?
Photo: Getty Images
For more hockey news, rumors and analysis, follow @EyeOnHockey and @BrianStubitsNHL on Twitter.