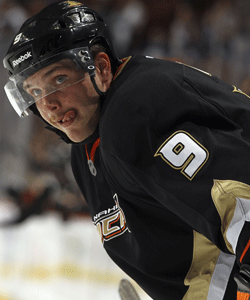 By: Adam Gretz
The Anaheim
Ducks
are struggling through a brutal season that's seen the team win just 11 of its first 39 games and, as of Saturday afternoon, get outscored by a larger margin than any other team in the league. Nothing is going right, and last week general manager Bob Murray made it known that just about every player on his roster not named
Teemu Selanne
or
Saku Koivu
is in play, which is definitely an intriguing start to the trading season.
Even though the team is lousy right now, and Selanne and Koivu are off the market, that still leaves quite a list of players that would be attractive to just about every other team in the league, including
Ryan Getzlaf
,
Bobby Ryan
and
Corey Perry
among others. Ryan's name was
in trade rumors earlier this season
, right around the team changed coaches, bringing in former
Capitals
coach Bruce Boudreau to replace Randy Carlyle,
and nothing came of the rumors at that time
. Who knows what's going to happen now that there's an "open for business" sign hanging on the front door.
For a team to complete a trade for one of Anaheim's many marketable players it's not only going to need an offer of players and draft picks that fits what the Ducks want and need, that team also needs enough salary cap space for the remainder of the season to make such a move, and a lot of these guys aren't cheap. When an in-season trade is made the team is responsible for a prorated portion of the players salary cap hit for that season, and it's determined by the number of days remaining in the season when the trade is completed.
To help figure out how much of a players cap hit a team is responsible for, the folks at CapGeek have a
calculator that figures out the remaining value on each contract
.
Below is a quick table for how much salary cap space a team would need to acquire one of Anaheim's top players this season on the following dates: January 7 (the present date), January 21, February 1, February 15 and the NHL's trade deadline, which falls on February 27 this season.
Does your team have the combination of players that can fill Anaheim's needs/wants as well as the available cap space?
Remaining Salary Cap Value: Anaheim Ducks, 2011-12 Season
Player
2011-12 Cap Value
Jan. 7
Jan. 21
Feb. 1
Feb. 15
Feb. 27
Ryan Getzlaf
$5.32 Million
$2.61 Million
$2.21 Million
$1.89 Million
$1.49 Million
$1.15 Million
Corey Perry
$5.32 Million
$2.61 Million
$2.21 Million
$1.89 Million
$1.49 Million
$1.15 Million
Bobby Ryan
$5.10 Million
$2.50 Million
$2.12 Million
$1.81 Million
$1.43 Million
$1.10 Million
Lubomir Visnovsky
$5.60 Million
$2.75 Million
$2.33 Million
$1.99 Million
$1.57 Million
$1.21 Million
Jonas Hiller
$4.50 Million
$2.21 Million
$1.87 Million
$1.60 Million
$1.26 Million
$972,000
Francois Beauchemin
$3.80 Million
$1.86 Million
$1.58 Million
$1.35 Million
$1.06 Million
$821,000
Toni Lydman
$3.00 Million
$1.45 Million
$1.24 Million
$1.07 Million
$843,243
$648,000
Getzlaf, Perry, Visnovsky, Beauchemin and Lydman are all signed through the end of next season. Hiller is signed through the 2013-14 season and Ryan is locked up through the 2014-15 season.


Photo: Getty ImagesFor more hockey news, rumors and analysis, follow @EyeOnHockey and @agretz on Twitter.