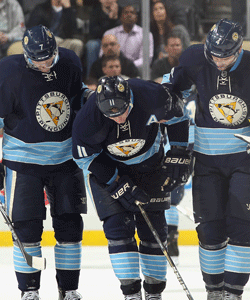 The Pittsburgh Penguins have faced plenty of injury adversity in the past two seasons. But this might take the cake.
The Penguins obviously are already down their best player in Sidney Crosby for an indefinite amount of time and have been minus Kris Letang, then they announced on Sunday that Jordan Staal is going to be out 4-6 weeks and James Neal has a broken foot with no timetable yet. That hurts, literally and figuratively.
Making it worse, Craig Adams might have suffered a knee injury in Sunday's practice. When it rains, it pours.
I think there are a few hands reaching for that panic button in Pittsburgh right about now. The Penguins have lost four games in a row, they are currently eighth place in the Eastern Conference and are going to be missing the majority of their play-makers. Now they need to invest in a plastic bubble to put Evgeni Malkin in.
As I said, this is nothing new for the Penguins. They still made the playoffs as a four seed last year when they didn't have Crosby, Malkin and Staal for good portions of the season. It was pretty amazing how well they overcame those injuries on the team. So clearly this isn't a crippling blow to their season. But it just made it a lot more interesting. Or scary if you're a Pens fan.
Unlike last year, the Penguins are actually going into this stretch in eighth place. They don't have the cushion they did last season. Plus, the Atlantic Division is considerably tougher this season, what with the Rangers stepping up their game and the New Jersey Devils playing so well. I think there's a little more competition in the East this year and it's going to ask a lot of them to keep their spot in the playoff mix through the second half of the season.
The Penguins aren't going to be buried as long as Marc-Andre Fleury is still in play. With the scorers dropping like flies, Flower will be counted on even more.
If the Penguins are able to make the playoffs again in a good position, Dan Bylsma might be up for the Jack Adams Award again this season. There are injuries then there are what the Penguins have gone through the last two seasons.
When they were depleted last year, GM Ray Shero went out and got James Neal from the Stars. He'll likely get on the phone again this week and try and get some help.
Photo: Getty Images
For more hockey news, rumors and analysis, follow @EyeOnHockey and @BrianStubitsNHL on Twitter.