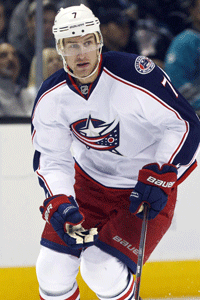 It's just not the Columbus Blue Jackets' year.
They met the Ducks in Anaheim on Sunday night in a midseason battle for the No. 1 pick. It was all that you would expect from two teams that seem snake-bitten. The goalies were toasted for 11 goals (all four played, by the way) and the Blue Jackets saw another key player go down with an injury. It's been that kind of year.
Coach Scott Arniel, who is somehow still hanging onto his job, confirmed after the 7-4 loss that Jeff Carter is going to miss time after separating his shoulder. This is the second time this season that Carter has had a bad injury that will cost him time. Earlier this season he had a hairline fracture in his foot from blocking a shot.
This offseason, Carter was the big acquisition by the Blue Jackets, the move that finally gave Rick Nash a fellow big-time scorer to play with. It hasn't gone exactly as planned. Nothing for Columbus has, really.
He has played in 29 games and has 10 goals with 8 assists. He hasn't scored fewer than 30 goals since 2007-08 with the Flyers when he had 29.
The Blue Jackets will update his situation further after some tests, but he is well on his way to a season to forget, both from a personal stats/injury standpoint and the lack of team success.
Photo: US Presswire
For more hockey news, rumors and analysis, follow @EyeOnHockey and @BrianStubitsNHL on Twitter.