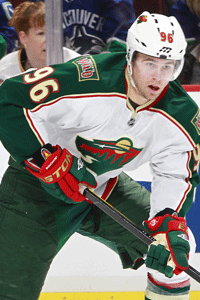 Pierre-Marc Bouchard missed all but one game in 2009-10 with a concussion. That same concussion cost him the end of the 2008-09 season and beginning of the 2010-11 campaign. So he knows all about hockey's big problem.
Unfortunately for him, he is being reminded about it now.
The Minnesota Wild announced on Tuesday that Bouchard is out indefinitely with concussion-like symptoms. They are waiting for more information before dropping the symptoms part and going with full out concussion, but if we've learned anything in the last year, that's likely where this is headed.
A little more from Michael Russo at the Minneapolis Star-Tribune:
According to GM Chuck Fletcher, Bouchard hasn't felt comfortable since the Zach Bogosian check into the boards last month in Winnipeg. Late in last week's Vancouver game, Bouchard was elbowed and has been experiencing symptoms.

Fletcher said Bouchard's symptoms aren't near as severe as when he was out with post-concussion syndrome during the year-plus away. Fletcher did admit they were being vague with Bouchard's injury, but he did suffer a groin strain as well against Vancouver and the Wild didn't want to use the concussion word until it had more information.
In case you need a reminder on that tough hit from Bogosian on Bouchard from earlier this season, here you go.
We've seen time and time again how bad things can get with repeated concussions. Moreover, it's been known to make guys more susceptible to more concussions down the line. I really hope that's not the case for Bouchard.
From an on-ice standpoint, the Wild will certainly miss Bouchard while he's out, too. They have been struggling to find offense for weeks now and losing a play-making winger who has 22 points in 37 games isn't a good way to get to that end.
Photo: Getty Images
For more hockey news, rumors and analysis, follow @EyeOnHockey and @BrianStubitsNHL on Twitter.