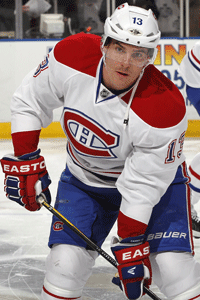 The season is getting away from the Montreal Canadiens so much now that it's not just their never-shy fans calling them losers. One of the Habs fans' biggest targets for their derisive boos, Mike Cammalleri, isn't shy to say it.
"I can't accept that we will display a losing attitude as we're doing this year. We prepare for our games like losers. We play like losers. So it's no wonder why we lose," Cammalleri told Francois Gagnon of RDS and La Presse (by way of TSN).
"When you display a losing attitude like we do now, you lose more often than you win and you stay in the same place. When you show a winning attitude, you are not stifled by mistakes and you respond to a mistake with 15 good plays at the other end, you win and you get out of misery. This is not what we are doing here now."
There's always a fine line to toe in these instances. Some cases this is seen as an honest assessment and much-needed wakeup call for the team. It can just as easily come across as a malcontent who just became a "locker room cancer" That's what you can get for speaking your mind.
I don't think he's in much danger of falling into the latter category in this case, it's more saying the team needs to start expecting to win. I don't see him calling his teammates losers, just that right now they are playing with that kind of mentality. They are defeated team at the moment.
As for the booing? Well, Cammalleri can live with that.
"You've got to be sensitive to the fact that Canadiens fans live and die by their team," Cammalleri said. "So if anything, you can identify with how they feel. They're unhappy, and they let you know it. So I wasn't disappointed; I think more so I probably expected it."
As the whole team probably does. They obviously know full well what playing poorly in Montreal can bring.
Moreover, Cammalleri is a little frustrated by his ice time, or lack thereof. It's been down from what he's used to playing and like any player, he'd like to get more action.
"I'm not playing as much, so I need to get a little work here in practice to stay in shape," Cammalleri told NHL.com. "I'm used to playing 20 minutes a night."
He hasn't been getting that much under interim coach Randy Cunneyworth.
So the Habs have lost seven of their last 10 and are 12th in the East with a player underperforming and seemingly becoming a malcontent. You all know where this is heading, right? It's likely that if nothing else, you'll hear Cammalleri's name floated around in the trade discussions as the deadline approaches in February.
Photo: Getty Images
For more hockey news, rumors and analysis, follow @EyeOnHockey and @BrianStubitsNHL on Twitter.