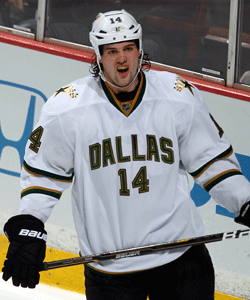 It started off as such a good week for Jamie Benn. The Dallas Stars forward was named an All-Star for the first time in his career, the only member of the Stars elected to go to Ottawa for the game at the end of this month.
Well now he might not make it because his week didn't end as well as it began.
Mike Heika of the Dallas Morning News reported on Sunday evening that the young star is going to miss 10 days to three weeks after he was sent to the hospital for an appendectomy.
If he is out on the long side of that projection, he'll miss the All-Star Game in Ottawa on Jan. 29. If that's the case, his teammate Loui Eriksson could possibly be called on to replace Benn in the game to represent the Stars.
On a more important level -- you know, where the games matter -- the Stars will be without not only Benn for a little bit but also Mike Ribeiro until after the All-Star Game. Head coach Glen Gulutzan released that information earlier on Sunday.
The Stars have five games until the All-Star break hits including back-to-back games this upcoming week against the Red Wings and Blues.
On the season Benn is the Stars' leading scorer with a total of 42 points in 43 games (13-29=42) and has taken more shots than anybody on the team. His absence won't be easy for Dallas to overcome.
"I'm excited about the challenge,'' Gulutzan said. "I've been dealt worse hands than this before and we came through just fine in those situations. Hopefully we'll be a better team in February for having gone through this.''
Photo: Getty Images
For more hockey news, rumors and analysis, follow @EyeOnHockey and @BrianStubitsNHL on Twitter.