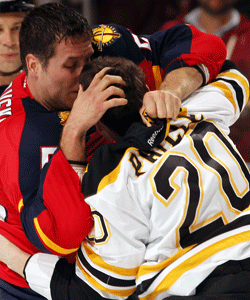 The Florida Panthers are so close to being healthy again. They have seen their Southeast Division lead slip all the way down to one point over the Washington Capitals while they have dealt with a rash of injuries, including one to starting goaltender Jose Theodore and at one time seven forwards.
One place they have been lucky in that regard, though, has been on defense. The Panthers have been carrying seven defensemen all season long, rotating the healthy scratch between Erik Gudbranson and Keaton Ellerby, both former first-round draft picks by the organization.
Now they are going to have to rely on both Ellerby and Gudbranson to play together, for their defensive corps finally took a hit. Literally.
The Panthers announced on Wednesday that veteran defenseman Ed Jovanovski could be out for as long as two months after undergoing surgery on his broken hand.
How did he break his hand, you ask? By engaging in a fight with the Bruins' Daniel Paille this week in Florida. In an interesting note of skewed stats, it was Jovanovski's first fight in a Florida uniform since 1999.
So that means that Ellerby will be pressed into action. As mentioned, he has been splitting scratches with Gudbranson this season, but Ellerby has been the one in the press box more often than not, including the last eight games. So now he'll have a chance to prove he belongs.
"[Dineen] just said he knows it's been a tough little stretch and he respects the way that I've handled myself," Ellerby told the Sun-Sentinel on Tuesday. "It's a tough spot, but he said you're going to get that chance. Lucky or unlucky, it happened [Monday night]. I know he's going to expect a lot from me and I expect a lot from myself. I need to go in and prove to them that I can play in this league and just help the team."
Dineen expressed his own confidence in Ellerby to fill the shoes of one of the Panthers' alternate captains (incidentally, Dineen still hasn't named a full-time captain).
"I'll give him credit that he's put in the work, and now the opportunity has presented itself," Dineen said. "He's had days where you could see he had some real jump and he was trying to go out there and improve. And then there were days that he maybe was not as sharp as he should have been.
"I like his size and his skating and his willingness to be a physical player, and to engage and be a guy that is hard to play against."
Jovanovski, who the Panthers brought back to the franchise this summer in free agency, has two goals and six assists this season for Florida. The injury will ensure a third straight season where he played less than 70 games.
Photo: Getty Images
For more hockey news, rumors and analysis, follow @EyeOnHockey and @BrianStubitsNHL on Twitter.