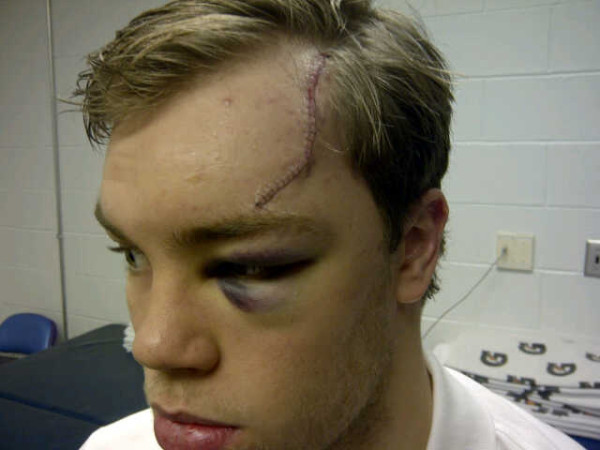 By: Adam Gretz
We already knew
Taylor Hall
was probably fortunate that his skate-to-the-face incident on Tuesday night wasn't even worse than it turned out to be, and as the picture to the right shows, well ... holy crap. It was pretty bad.
That's what Hall looked like on Thursday when he addressed the media for the first time since being injured before Edmonton's 4-2 loss in Columbus earlier this week. It occurred after Hall fell, without wearing his helmet, and was accidentally stepped on by his teammate, defenseman
Corey Potter
.
The cut required 30 stitches.
Hall and the
Oilers
have already done their part to dismiss reports that his season may be over, and the young Edmonton star has said he hopes to be back in the lineup "as soon as possible."
Also good news: he's promised his mother
he will always wear his helmet during warmups from now on
.
Previously at Eye On Hockey
Video: Hall cut during warmups
Hall says he will be back 'as soon as possible'
Photo: Edmonton Oilers on Twitter
For more hockey news, rumors and analysis, follow @EyeOnHockey and @agretz on Twitter.