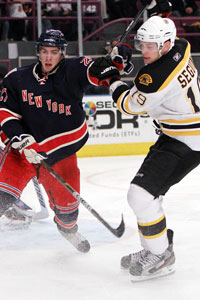 McDonagh's and Seguin's teams renew acquaintances. (Getty Images)
Weekend Schedules: Friday | Saturday | Sunday
Thanks to the scheduling quirks of the NHL, it has taken us until the end of January to get a dose of some real New York-Boston feuding in hockey. No offense to the Devils and the Islanders, but the city-to-city rivalry is reserved for pretty much only the Rangers against the Bruins.
This season, though, the wait has seemed even longer than it really has been. That's because of the little fact that for the first team in a long, long time, the Bruins and Rangers are the best two teams in the Eastern Conference.
There has been some bemoaning lately of the lack of rivalries in hockey. Well this isn't on par with Yankees-Red Sox in baseball, but there's always a little extra flair when it's New York vs. Boston. This one should have a lot of extra flair.
Nobody at this point will dispute the Rangers are one of the best teams in the league this season. You'd be foolish to try. But there are people, myself included, who are still wondering exactly how good are the Rangers? Well what better way to find out than to send them to the hornets' nest that is TD Garden in Boston to face the defending champs?
Although it's too bad we could have had this game a week or so ago. By their standards this season, each of these teams has lost some steam going into the game. The Bruins are only 6-4-0 in their last 10 (gasp!) while the Rangers just slightly better at 7-3-0. I laugh about it a little but it was just in the last two weeks that each of these teams had won nine of 10 games.
One of the tricks for each of the coaches is to find ways to keep pushing their guys in the middle of the season, particularly when you've had as much success as these two Original Six squads have. Sometimes that can be as simple as finding a bear to poke (pun clearly intended).
Bruins coach Claude Julien took his poking stick to the midsection of Nathan Horton this week on the Bruins' recent road trip.
"Horton has got to pick up his game. No ifs or buts about it," Julien said after the shootout win at Florida. "A guy his size needs to get more physically involved. He needs to compete a lot harder. He's skating hard, you can see it on the backcheck ... but we need more from him. When he's emotionally engaged, he scores goals and he's a difference-maker. He's got to find his game. We're at the point where we're a little shorthanded and we need him to step up."
Horton responded by scoring twice in the loss to the Lightning and then one more in the win on Thursday night against the Devils. That might be mission: accomplished.
It looks like Rangers coach John Tortorella has his own target to try and prod.
Brad Richards was the star they brought to New York this summer to give Marian Gaborik that other scoring threat and finally give Henrik Lundqvist some much-deserved support. In that regard, Richards has been alright. But that's it.
In 45 games he has 15 goals and 16 assists for 31 points while carrying a minus-3. That stat still means very little, plus/minus, but on a team like the Rangers, it's tough to be negative. He and Ruslan Fedotenko are the only players on the team with more than 10 games played that are in the red.
Going into the game against the Bruins, Richards hasn't tallied a single point in the last six games. Obviously that's not very good, particularly for a guy making $6.7 million per season.
While Tortorella didn't go anywhere close to the level of criticism that Julien did with Horton, he at least made it known that Richards needs to step up some. From Ranger Rants:
Coach John Tortorella said he didn't want to analyze individual performances after the game when asked specifically about Staal and Brad Richards. But he acknowledged that Richards' game wasn't spot on right now (he was a minus-1 in 16:46 though he won 12 of 16 faceoffs).
If the Rangers can get a point-per-game pace out of Richards like he has been doing for most of the past few seasons, then watch out.
This will be the first of four matchups between the foes this season and each will very likely go a long way in determining who gets home-ice advantage throughout the Eastern Conference playoffs.
If that leaves you wanting more ...
... Then you'll get it. There is no better way to spend Saturday if you're a hockey fan than to tune in to the NHL Network. Once that Rangers-Bruins tilt is done it's on to the next, but it takes no backseat to the first game.
The Vancouver Canucks seem to have a lot of rivalries these days. We all know about their ongoing feud with the Bruins, they have a fierce battle with the Chicago Blackhawks and pretty much any team from Canada.
But don't forget about their rivals to the south in San Jose, too. They've had some damn good playoff battles as well, including that Western Conference final matchup a season ago where Kevin Bieksa was the only person on the ice who knew what the heck was going on.
The Sharks are an interesting team to me. Perhaps it's a situation of just getting used to it, being desensitized to them, but once again they are right there in the race for the Presidents' Trophy this season. Remember, they have games in hand on every single Western Conference team.
Yet they are just quietly trudging along on the West Coast. It's expected from them now to be honest. That's a great compliment to give to the ownership and front office in San Jose.
Unlike the Eastern powers mentioned above, these Western heavies have already met three times this season, so when they dance on Saturday night in Vancouver, it's the last time they'll see each other until next season. Unless ...
Hot, hot, hot!
The Ottawa Senators are 12-2-2 since Kyle Turris came to town. They are in the midst of a very challenging road trip to the West Coast, starting it off with a win on Thursday in San Jose.
When they looked at the itinerary for the road trip, they had to look at the Saturday visit to Anaheim as a little bit of a reprieve on the tough trip. Not anymore.
It took a while, but Bruce Boudreau is seeing the Ducks play the way we all thought they would this season. All of a sudden, these are the two hottest teams in the NHL (what?!?). The Ducks are 6-0-1 in their last seven games in their own right.
It's likely well past the time for them to get back into the playoff picture. Even with these 13 points in seven games, they are still 13 points behind Colorado for the eighth spot in the West. What a really strong finish can do, though, is affect the way general manager Bob Murray views his team and thus how much of a seller the Ducks will be at the Feb. 27 trade deadline.
In the meantime, each of the Sens and Ducks gets a heat check in one of the few places in either the USA or Canada that it's actually warm right now, Southern California.
Familiar foes
Friday night will feature some old friends facing off as the Florida Blackhawks visit the Chicago Panthers. Wait ...
Since Dale Tallon took over in Florida as general manager, the Panthers have taken on quite a strong feeling of the Blackhawks. They currently carry five former players from Chicago: John Madden, Brian Campbell, Kris Versteeg, Tomas Kopecky and Jack Skille. Of them, only Skille wasn't a contributor to the Stanley Cup a couple of seasons ago.
To make that happen obviously Tallon had to send some of his Panthers players to GM Stan Bowman in Chicago. It's not as strong the other way but the Blackhawks currently employ former Panthers Michal Frolik, Steve Montador and have Rostislav Olesz and Alexander Salak in the system.
But the player to watch in this battle? How about Andrew Shaw, who is quickly making a big name for himself in Chicago. The 20-year-old forward who was a fifth-round pick by the 'Hawks has five points in the last four games on the strength of a goal in each game. That's led to the Twitter hashtag of #ShawFacts where fans have taken their best Chuck Norris jokes and tailored them for Shaw.
Something else worth watching: With weather conditions as bad as they are in Chicago this weekend, will the Panthers have any problems getting out of town and into Winnipeg in time for their game Saturday against the Jets?
Speak of old friends ...
What would the Tampa Bay Lightning give to have the summer over and keep Mike Smith instead of Dwayne Roloson?
The Bolts will get the chance to see firsthand what has happened to Smith since he moved to the desert this offseason. For those not in the know, what has happened is that he has become a quality starting goaltender for the Coyotes.
The Lightning are giving up more goals than any team in the league. Don't you think Smith and his 2.41 goals against average would be handy in Tampa Bay this season?
Then again, it probably wouldn't be too much different if the defenders in front of Smith were playing the same/as injured as they are in front of Roloson and Mathieu Garon.
Fun doesn't stop Saturday
On Sunday there is a nice pair of battles for matinee games in the Eastern Conference.
The Bruins will take on another one of the I-95 corridor powers in the Philadelphia Flyers while the Pittsburgh Penguins will host the Washington Capitals for their final bout this season. It might be a bit watered down without Sidney Crosby playing, but it's still worth watching.
Both games are worth it, so get ready to wear out the "last" button on your remote.
We're going streaking!
A look at the winning and losing streaks heading into the weekend.
Penguins: Remember how they just lost six in a row? This is how you rebound from that. The Pens take a four-game winning streak into Friday night's game against the Canadiens before the game against the Caps.
Detroit Red Wings: For the moment, they have taken the lead in the Central Division, which is an unbelievable race this season. Their five straight wins will be put on the line Saturday vs. the Blue Jackets.
St. Louis Blues: They are doing what they can to keep pace with the Red Wings and Blackhawks, and they're doing it just fine. They ride a three-game run into a home game against the Sabres, losers of 10 straight on the road.
Buffalo Sabres: As just mentioned, 10 straight road losses, four in a row overall. Only the one chance in St. Louis to snap it this weekend.
Panthers: They haven't won a game in their last three chances but they have picked up points in two of those three. The double dip this weekend is at Chicago and at Winnipeg.
Minnesota Wild: The ship keeps on sinking. Remember when they were first in the NHL? I hardly do either. Four straight losses and Dallas on tap this weekend.
Dallas Stars: Misery loves company, I suppose. Dallas brings its own losing streak of three games into the weekend, but they get Tampa Bay before facing the Wild.
For more hockey news, rumors and analysis, follow @EyeOnHockey and @BrianStubitsNHL on Twitter.