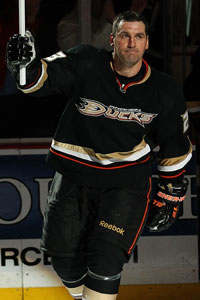 Beauchemin salutes his new three-year deal. (Getty Images)
It wasn't long ago that Anaheim Ducks general manager Bob Murray declared that everybody on his roster save for Teemu Selanne and Saku Koivu could be had in trade conversation.
You can add defenseman Francois Beauchemin to that do not move list.
The Ducks announced they re-signed the 31-year-old defenseman to a three-year contract on Friday. The Ducks didn't release the salary numbers, but multiple outlets did, including Eric Stephen of the Orange County Register. The contract calls for $10.5 million spread evenly across the three seasons.
"Francois is a dedicated, versatile and hard-working defenseman who is committed to our organization," Murray said. "We are extremely pleased to have him under contract for the next three years."
Beauchemin came to Anaheim a little less than a year ago in a trade that is looking more and more lopsided by the day for the Ducks. Not to say that Beauchemin has been a bust in Anaheim -- clearly he hasn't if they are extending him -- but the return package of Joffrey Lupul and Jake Gardiner.
This season for the Ducks Beauchemin has six goals and 12 assists while carrying a plus-1 for a team that has struggled for virtually the entire season.
What's interesting is that this is Beauchemin's second stint in Anaheim and he left to Toronto via free agency. This time he was willing to ink a deal to remain with the Ducks.
It's all in all a pretty good contract for the Ducks, not a terrible cap hit to pay for Beauchemin. But more importantly it says a lot about the Ducks and what management thinks about them.
It gives you the impression that Murray is willing to chalk this one up to a fluky bad season and that the team's recent 6-0-1 record is indicative of how good they can be. Remember, most every saw them as a playoff team this season.
Still, it doesn't mean they are all out of the woods yet. Looking at the defense, Beauchemin might be under a new deal but Lubomir Visnovsky could still be available, if they can find any takers. He has seen his production take a major dive this year as he turned 35 while still under a $5.6 million per year contract through next season. Visnovsky has just 15 points this season after totalling 68 just last season.
Previously at Eye on Hockey
GM: All but Koivu, Selanne available
Remaining cap hits for Ducks in trades
For more hockey news, rumors and analysis, follow @EyeOnHockey and @BrianStubitsNHL on Twitter.