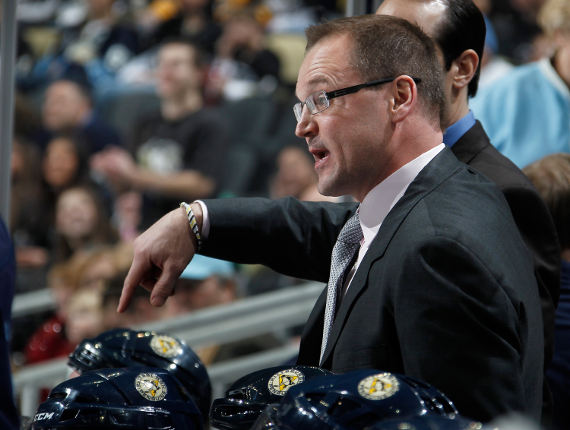 By: Adam Gretz
A little over a week ago the sky appeared to be falling when it came to the Pittsburgh
Penguins
and their season.
The team was riding a six-game losing streak, they were on the outside of the Eastern Conference playoff picture for the time being and there was even a discussion as to whether or not some players on the team held a meeting regarding a potential temporary captain in the absence of
Sidney Crosby
. That, of course, was followed by the entire team hitting the ice for practice
by all wearing C's on their jerseys
on the same day they started a five-game winning streak, which was extended to six games with a 4-3 overtime win against Washington on Sunday afternoon.
It would certainly be a nice narrative to suggest that show of solidarity and team-bonding (if you want to call it that) was the springboard for their return to the win-column, but it's actually a lot more reasonable than that: the team simply wasn't as bad as it looked during that stretch, and they got back to doing a lot of the things that originally made them successful.
That six-game losing streak was the perfect storm where slumps, uncharacteristically sloppy play and bad luck all met at the same point in the season. Every mistake they made ended up in the back of their net, and no matter how many chances they generated or shots they fired on goal at the other end, they weren't getting the same fortune and couldn't seem to buy a goal.
Even though offense was difficult to come by, with the team scoring just six goals over the six games, they were still out-shooting their opponents by a significant margin in every game, indicating that they were still controlling puck possession, an area that has been one of the team's strengths ever since Dan Bylsma took over behind the bench during the 2008-09 season. It was also perhaps a sign that, eventually, they would be able to break through.
During that streak the Penguins, as a team, were shooting around 3 percent, while their opponents were pumping in goals at a 14 percent rate, two percentages that were in no way going to continue for an extended period of time (keep in mind, the league average is typically around 9 percent in a given season, as it is once again this year, and the best and worst teams usually shoot in the neighborhood of 10 and 7 percent respectively). While they may have been lacking a large number of true "scoring chances," and a lot of the shots may have been coming from the perimeter, the more time you spend in the offensive zone the more chances there are for a defensive breakdown by the other team, the more opportunities you're going to get for a second or third chance shot, and, really, the more bad things that can happen for the team trying to defend as they get worn down trying to defend, especially against an aggressive forechecking team.
The whole thing was actually pretty reminiscent of the losing streak the Detroit
Red Wings
had earlier in the season (
also a six-game drought, driven largely by a lack of goal-scoring
), and one that was followed by them winning 14 of the following 18 games.
Before the Penguins' 5-4 come-from-behind win against Montreal on Friday night, I asked Bylsma if he felt that his team was on the verge of putting together a run of games like this given the way they had previously been playing, and some of the things they were able to do, even in defeat, and he seemed to think it all started to turn around with their 1-0 loss in Washington back on Jan. 11.
"When two losses turns into four and six, you start to feel a little bit like when the next one is going to come," said Bylsma. "We liked a lot of the things we did. We maybe didn't react well to situations in the games, like other teams scoring, making a mistake, maybe a referee call -- we weren't reacting well, and it was causing us to find ways to lose, or find a way to let teams back into games.
"I think it started with the Washington game. Our attitude changed, our mindset changed, and in addition to playing well and having possession of the puck, we were playing a little bit more with an edge, a little bit more of an attitude and the way we need to play the game."
It also probably wasn't a coincidence that their worst stretch of the season also took place during the exact same time that
Evgeni Malkin
and
James Neal
, their two best players this season, hit their first extended slumps of the season. Both have since gone on new scoring streaks, especially Malkin as he continues to shine in the absence of Crosby, and has been one of the best offensive players in the league this season. But Bylsma was also quick to point out that it's not just about his point production, and that he might be playing the best even-strength hockey of his career.
"It's easy to look at the highlights and say he's playing amazing," said Bylsma. "But it's much harder to look at his whole game. How he's playing without the puck, how he's playing defensively, the number of minutes he's playing, who he's playing against, how he and his line with
Chris Kunitz
and James Neal have been able to play a real dominating game, and not just the fact they're scoring points and getting goals, but maybe his best hockey at 5-on-5 that he's played in his career. And he's been doing it for a long stretch of hockey right now and leading our team."
Among the numerous injuries the Penguins have dealt with at various times this season, one of the most recent was to center
Jordan Staal
, the player that almost always plays some of the toughest minutes on the team and handles the toughest assignments. In his absence Malkin, one of the few natural centers remaining in the lineup, has taken on more of those responsibilites in recent weeks, playing more minutes and getting more shifts against other teams top lines.
They still have a franchise center, and now that
Kris Letang
, their best all-around defenseman, is back in the lineup, that six-game losing streak might be starting to become a thing of the past.
For more hockey news, rumors and analysis, follow @EyeOnHockey and @agretz on Twitter.