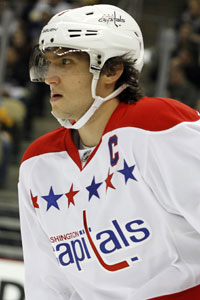 Ovechkin has 20 goals and 19 assists. (Getty Images)
It was going to be seriously awkward if Alex Ovechkin, a suspended player, were to take up the honor bestowed upon him and attend the NHL All-Star Game this weekend in Ottawa.
Well, awkwardness avoided. The Washington Capitals announced on Tuesday that he will not attend the All-Star Game, instead staying home after being handed down a three-game suspension from league disciplinarian Brendan Shanahan on Monday.
"My heart is not there," Ovechkin said on Tuesday. "I suspended, so why I have to go there?
"I'd love to be there, but I'm suspended. I don't want to be a target. I feel I'm not deserving to be there."
Caps GM George McPhee released the information, saying that Ovechkin's heart is not in it and that the team supports him.
McPhee also took it as a chance to make a little statement regarding Ovechkin's suspension.
"I was surprised and disappointed, I didn't anticipate he would be suspended for three game," McPhee said.
It was also the first time the Washington media had a chance to ask Ovechkin for his opinion on the hit since the suspension. Unsurprisingly, he didn't like the ruling much.
"I don't think it was a bad hit or dirty hit," he said. "Yeah, I jumped, but he don't get hurt, I don't get two minutes."
Speaking of suspensions and fines, will Ovechkin be facing one now for skipping the festivities in Ottawa? Remember, players in the past have, including Nicklas Lidstrom.
Well according to Darren Dreger of TSN, the NHL is disappointed but won't punish Ovechkin.
In a way, this sort of rights a wrong if you ask me. I objected to Ovechkin's nomination based on merit this season, there were other guys who deserved it more. I understand the marketing value and name recognition with Ovechkin and completely understood why he was named an All-Star, but on merit alone I didn't think he deserved it.
It was a tough situation for Ovechkin, who said that he didn't deserve to be there after being suspended and didn't want to be a distraction. He was certainly not prohibited from playing in the game because of his suspension, but as I said, it would have been a bit awkward.
However, I don't like Ovechkin skipping the game. It really comes across as being sulky more than anything else. I really don't think he would have provided much of a distraction to the All-Star Game by being there. Suspensions are pretty common these days in the NHL.
I didn't rip Tim Thomas for his decision not to visit the White House yesterday in a form of protest. I was perfectly fine with his decision. But Ovechkin is just passing on this because his heart is not in it? I don't like it all that much. It's obvious people like to watch him play.
A replacement will be named to fill his spot and there's one very notable snub still sitting out there: Penguins forward James Neal. I'd be very surprised if he's not the one to get the call to replace Ovechkin.
On an interesting side note, that means that Dennis Wideman will be the only Capital in the All-Star Game. What do you think the odds would have been on that at the beginning of the season?
More from Eye on Hockey
Ovechkin given three-game suspension
Ovechkin raps in Russian and dances
Dissecting the All-Star picks
For more hockey news, rumors and analysis, follow @EyeOnHockey and @BrianStubitsNHL on Twitter.