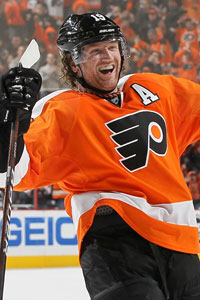 Hartnell down? More like Hartnell up. (Getty Images)
We knew it was only a matter of time before some of the obvious snubs of the All-Star Game were corrected and named to the team. It comes through the guise of injury replacements, but that's just semantics. Scott Hartnell is an All-Star!
Yes, the Philadelphia Flyers' colorful scorer was named to the team on Tuesday morning, replacing the injured Jonathan Toews from the Blackhawks. In the case of Hartnell, it's no "well he doesn't really deserve it" situation (imagine the most annoying friend you have saying that, works for the effect).
"It definitely was a surprise to get the phone call late [Monday] night and be selected," Hartnell told NHL.com. "I just had a smile on my face. It's our father's trip here, so he was sitting here with me. A real special night."
Since he wasn't named an All-Star, Hartnell has been on a tear. He had a natural hat trick on Sunday against the Bruins, scoring three straight goals, all in the second period. The game before that he had two goals in a win against the Devils. That recent spurt has brought his season total to 25 goals, five behind his career high.
While he isn't replacing him, Hartnell makes a nice fill-in for Alex Ovechkin, who pulled out of the game on Tuesday. They are both power forwards who will lay some lumber and Hartnell has a big personality that helps hide the absence of one of the games better players and bigger names.
"I had something lined up to get away for a few days, get away from hockey," Hartnell said, "but in the back of my mind I had my fingers crossed, maybe I'd get a call. There's a lot of good players in the NHL these days, and if it wasn't me it could have been two or three other guys. I feel pretty fortunate and pretty lucky. Going there, I was thinking about the skills competition. Hopefully I don't get too nervous out there. I can't wait. I'm super excited."
From Toews' standpoint, don't get too concerned, Blackhawks fans. His injury isn't thought to be serious, although he will miss Tuesday's game against the Predators.
By my count that leaves the most egregious snub count at two; James Neal and Patrice Bergeron. After them it's probably Radim Vrbata.
More from Eye on Hockey
Ovechkin withdraws from All-Star Game
Toews out with upper-body injury
More All-Star Game coverage
For more hockey news, rumors and analysis, follow @EyeOnHockey and @BrianStubitsNHL on Twitter.