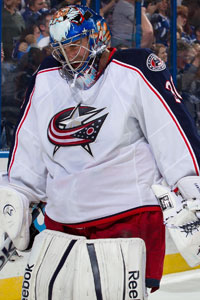 Columbus heads to the All-Star break 13-30-6. (Getty Images)
With four straight losses, the Columbus Blue Jackets are running away with the Fail for Nail campaign (for those who don't keep up on draft prospects, here you go).
The downside of that, of course, is that they stink. Like a dumpster that hasn't been emptied for a week in a sweltering summer behind a cafe stink. OK, that might be a little too harsh, but consider that the other four teams in the Central Division have at least twice as many points as the Blue Jackets at the All-Star break. That's almost unfathomable.
Former coach Scott Arniel already paid for it with his job but GM Scott Howson and team president Mike Priest? Well there just doesn't seem to be much danger to their jobs despite the organization's lack of success.
Now the fans have had enough. From the Columbus Dispatch, they are planning to take action, starting this weekend.
On Saturday, as the NHL stands down for the All-Star break, some Jackets fans are planning to gather in front of Nationwide to demand the ouster of team president Mike Priest and general manager Scott Howson. The summons first went out on the web on Monday night — right after the Jackets staggered through a 4-1 loss at Nashville.
Carl Bennett, a season-ticket holder since the franchise opened operations in Columbus, was particularly vocal.
"I feel there is a disregard for the fan base that comes off as arrogance," Bennett said. "I am not saying these are bad people. I have been around enough to know that Mike Priest and Scott Howson are really good people, and they mean well. But they have had five years now, and they haven't gotten the job done. I think it's time to bring in true professionals who have a track record, and I am not alone, but it doesn't seem as if anyone is listening to us."
So they are trying to make themselves heard by protesting. Of course, if nobody is at the team offices because it's the All-Star break ...
Well we can't leave you without first sharing this quality quote from Bennett.
"I want to make this thing work like I want to marry Cindy Crawford," Bennett said. That's such a great way to put it.
Getting back to the matter at hand, though, what choice do the fans have? The ones that have been loyal to the team obviously love hockey. You'd have to to put yourself through this many Blue Jackets games over the years.
I'm a firm believer in the majority of the responsibility for failure or success comes from the general manager and team architects. Howson has built the roster the way it is and they have the worst record in the league to show for it despite spending close to the salary cap.
Now how long before all the fans come with paper bags on their heads?
For more hockey news, rumors and analysis, follow @EyeOnHockey and @BrianStubitsNHL on Twitter.