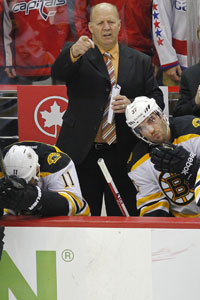 Boston goes to the All-Star break 5-4-1 in its last 10. (US Presswire)
WASHINGTON -- No team is ever as bad as it is at its worst moments nor as good as they look in their best moments. I hate clichés, but remember, they are all born out of truth. This one is no exception and is important to remember.
I bring this up in reference to the Boston Bruins, the defending Stanley Cup champions. I'd like to take you back to the beginning of the season, if I could. You'll remember the Bruins began the season 3-7-0 and people were beginning to wonder what was going on. There wasn't much but even a little doubt setting in about their chances.
Fast forward a month or two and the Bruins were on one of the most incredible stretches of hockey I've ever seen. They rattled off a 21-2-1 stretch that vaulted them back up atop the NHL perch and ran their goal differential to gaudy levels, leading many to crown them for a second time in as many years.
Like most everything, the truth lies somewhere in the middle. Of course the Bruins weren't 3-7-0 bad or 21-2-1 good. But you knew that.
They leveled off and found a bit of that medium now by finishing the first half with a 5-4-1 stretch, including the final game pre-All-Star break being a 5-3 loss to the undermanned Washington Capitals on Tuesday night in D.C.
The surprising thing about that closing stretch is the where the defense has gone for the Bruins recently. This is a team that not only scores goals galore on teams but doesn't allow others to score. That's why they led the league last year in goal differential and are doing so again this season. They are truly a two-way team, elite two-way players like Patrice Bergeron fit the bill.
When the conceded five goals to the Caps -- minus Alex Ovechkin and Nicklas Backstrom, mind you -- it marked the third time in five games the Bruins gave up five goals. So of course I had to ask coach Claude Julien about his team's defense.
"Talk about our defense? There was none," Julien said after the loss. "The way we played tonight we gave them their goals, there's no question about that. The turnovers from our Ds, the type of goals we gave them certainly are disappointing for our team."
It's certainly out of character to see the Bruins giving up as much as they have lately. It's not their style. So with how porous the defense has been of late, I'd say it's a pretty good testament to how strong this team is even when they aren't playing very well that their not riding a losing streak.
In the 10 games since their 9-0 clobbering of the Flames on Jan. 7, Boston has surrendered 33 goals, an average of 3.3 goals per game. That's not exactly up to their standard. It's safe to say that for the second time this season, the B's have hit a slump, the thing is they are scoring enough this time around to avoid another 3-7-0 stretch.
"Bottom line is we've got to play better, we know that," Julien said. "Saying that is one thing, you just have to make sure you make it happen. Hopefully in a week that will happen."
One thing I have not seen mentioned much with the Bruins in the first half of the season: They actually had it pretty easy from the schedule makers. They had a little spurt of games before the All-Star break that brought them closer to the rest of the league in terms of games played. For the majority of the season they had played a lighter schedule than all the other teams with many games in hand.
Moreover, they were spending a lot of time at home in the comfy confines of Boston. Even after playing six of the last seven games on the road, they still have played three more home games than away. So maybe it's no coincidence that they have hit another bump in the road.
"It's not the way we wanted to head into the break and we realize we have to be better," Bergeron said. "We can't just rely on playing a good first, bad second and just think everything is going to come up in the third period and we're going to win the game. It's not going to happen all the time, we've been lucky when it did and now we need to realize that."
I'd say there hasn't been much luck involved for the Bruins. You don't get those kinds of goal differentials by way of luck. It's teams like the Panthers, who are minus-14 in scoring, who have been a bit lucky to have their playoff position. I mean, the Bruins still have the league's best plus/minus mark at plus-69, an incredible number through 47 games.
Slumps happen, obviously even to teams that seem slump-proof. The difference between the Bruins and most of the other teams is that they can sustain a .500 pace even through the bad times, such as now.
"We need to be better," Bergeron said.
That's because 5-4-1 is seen as not good enough with these Bruins. That's a serious standard. That will go a lot further in telling you what kind of team the Bruins are than any stretch of play this season. They have downs and a lot more ups. But it's that understanding that treading water isn't good enough that shows how good they are to me.
More from Eye on Hockey
Recap: Caps 5, Bruins 3
Thomas called selfish, speculation starts
Bruins honored in White House visit
Thomas explains skipping White House
For more hockey news, rumors and analysis, follow @EyeOnHockey and @BrianStubitsNHL on Twitter.